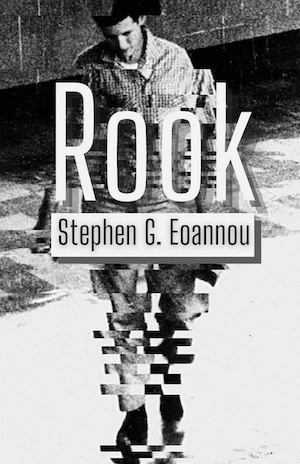 True crime and crime fiction that feels like true crime are very popular at the moment. Sometimes it's hard to tell whether the story you're reading actually happened or not. Which is fine, as long as it's a good story. With Rook, Buffalo-based author Stephen G Eoannou has unearthed one of the most sensational crime stories of 20th century America and rewritten it as a novel, aiming to put a human face on the characters involved. It's the tale of Al Nussbaum – a schemer, plotter and getaway driver extraordinaire who made the FBI's Most Wanted List in the early 1960s after a string of bank robberies, one of which resulted in murder.
On a wintry day in New York, Al is waiting outside the bank, observing the passing traffic. Inside, Peter Curry and Bobby Wilcoxson are robbing the place. Then he hears just what he didn't want to hear. Not sirens. Gunshots. Two bursts. Soon the pair join him in the car, he casually drives away to another car and Curry slips away into the metropolis while Al and Bobby drive northwest back up to Buffalo where they're based.
The tension between them is palpable. Bobby is hyped and takes ages to calm down. He keeps demanding a bigger cut of the cash because he thinks going into the bank is riskier than driving the getaway car. Bobby can't appreciate everything Al – who is a bit of a polymath and chess maestro – does to plan each heist. Up until now their work has been successful but this time a guard has been killed and the FBI and law enforcement all over the country will be looking for them. Potentially, it means the death penalty.
It's a game changer personally for Al, who is married to Lolly and father to a baby girl called Alice. Lolly is completely in the dark about Al's activities but her mother remains suspicious. Lolly thinks he's setting up an import-export business dealing in electronics. In actual fact, the bank robberies are funding a gunrunning operation. When they lie together at night in their apartment upstairs from her parents, Lolly dreams of moving to a big old Victorian house on the nice side of town, while Al nervously plans and plots his next move. The FBI will be there soon.
There are several triumphs here in Eoannou's debut crime novel. He focuses on the relationships between many of the key characters and the flaws in them. Bobby, who has a wandering eye, is brawn to Al's brains in other tellings of this story. Here we see him as a wild and threatening character, liable to attack at any moment. Al has been manipulating Bobby since they did time together and continuing to do so will be a mistake, but Al can't quite see the risk he poses.
Then there's Lolly. Emotionally, she's an open book. They love each other and it's clear through the storytelling. However, Al gives little away and when he does say anything it's usually tinged with a lie. When they view a house together, he goes through the place tapping the walls looking for a safe and she doesn't seem to think this is odd. After he goes on the run and the FBI turn their apartment upside down Lolly has to rebuild her life, but somehow she still holds out hope that Al will return.
There's a sense that they're both dreamers and the often light tone of the novel detaches their lives somewhat from the harsh reality of the manhunt that is taking place. Because of they don't seem grounded, it's hard to feel as though you really know them.
The city of Buffalo in the 1960s is wonderfully evoked, with its heavy, wet snowfalls, and its markets, restaurants, houses and hotels. Chief among the latter is the Statler, where the novel climaxes as FBI agents set a trap for Al with Lolly as bait. At various points in the story Al and Lolly travel through the city, with the main streets and neighbourhoods described and you get an idea of where the rich WASPs live, the Poles, the Irish and so forth.
Canada is just a dash away, but Al would never think of running there. He's got his sights on fake passports from a friend in Miami, and three plane tickets to Rio de Janeiro. In the meantime, hiding out with Bobby, he needs to hit a few more banks because the FBI has found the money he stashed and his inventory of weapons. The trouble is Bobby actually enjoys being on the Most Wanted list, while fear of the electric chair has him doubly amped. That's where the noir element of this book really kicks in. There's no chess move Al can make that will temper Bobby's approach.
Crime fiction lovers will enjoy the way Al poses as a crime author while he's hiding out in Pennsylvania. And the best part is that it's true – Al Nussbaum was a writer who contributed to magazines like Ellery Queen and had several novels published. We've yet to come across a crime author who has become a successful bank robber, though.
The prose here is wonderful, the research thorough, the place and characters interesting, and the crimes feel realistic. And 'One Eye' Bobby Wilcoxson is terrifying.
Also see Sutton by JR Moehringer, a biography of bank robber Willie Sutton.
Unsolicited Press
Print/Kindle
£4.57
CFL Rating: 4 Stars