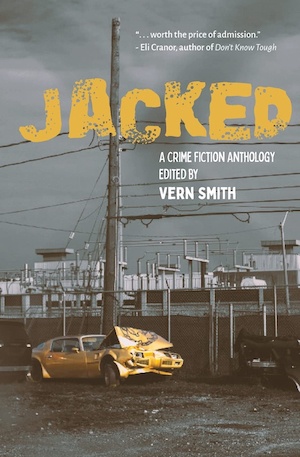 Edited by Vern Smith — A crime fiction short story has to accomplish a lot in a compressed space. It has to describe the crime involved in enough detail to make sense to readers, it has to create believable characters whose fates you care about at least enough to arouse your curiosity, if not your admiration, and the narrative has to move along briskly – skirting the law isn't an occupation for laggards. The 21 crime stories in the new anthology Jacked manage to do all this and then some.
Jacked is the first crime anthology from the indie publisher Run Amok Books, based in Connecticut. It was edited by Canadian author Vern Smith, an Arthur Ellis Award finalist, whose books include Green Ghetto and Under the Table. A diverse array of his fellow pulp authors are to be found inside, including published novelists and writers whose works you'll find in crime fiction magazines and other anthologies.
The best known, perhaps, is Eric Beetner. His story First Timers uses humour alongside a rather bleak assessment of human frailty in a tale about inexperienced teenage thieves who steal the wrong person's car.
Ricky Sprague's longer story, The Gryfters, closes the book and can also be described as innately funny. In it, a young guy on the fringes of criminality hits upon the bright idea of developing a ride-share service for criminals who need a fast getaway. The discussion of possible names for this service between the entrepreneurial genius, Dan, and his appalled roommate, Chris, is hilarious, with Gryft the apparent choice. Chris tells this story, and you can see by his hesitant, stumbling conversation that he is swamped by completely understandable fear and doubt. Dan has a way of casually revealing significant information, including the fact that Chris's car actually has already been deployed as a Gryft-mobile without his knowledge. Chris is shocked, but Dan believes it a sensible choice, because Chris's Hyundai is sturdy and reliable, whereas his car is an old, on-its-last-legs Chevrolet Monte Carlo. When Chris insists that Dan use the Monte for his next caper, the result is the slowest imaginable trip across Los Angeles in a car that becomes ridiculously crowded. Sprague's memorable description of this truly comic situation has cinematic clarity.
In Andrew Miller's Samurai '81, a modern business rivalry between Japanese electronics manufacturers culminates in a murder with an old-fashioned weapon – a samurai sword. Los Angeles Police Department detectives Junichiro Genji and the young detective Akira, our narrator, know who the killer is. It's a former LAPD detective and they travel to Hawai`i to track him down. Along the way, Akira learns about a brotherhood of Japanese law enforcement professionals and discovers the strengths and limits of tradition. Miller's weaving of culture and plot makes this story a highly enjoyable read.
Oh, families. A writer once said something like, "anyone who's had a childhood has enough story material for a lifetime." And the amount of bad parenting in the Jacked collection sadly proves the point. Fathers and stepfathers are the main culprits, as in Allison Whittenberg's story, Killing in Periot. Two teenage boys have to decide whether to try to do something about their abusive father, and when the stepson decides he will take action, will the blood ties between the man and his biological son outweigh the desire for freedom?
Most of the stories in this volume are written from the criminal's point of view, rather than an investigator's. I think only two are actual cop or spy stories. A third exception is Jacqueline Seewald's Worst Enemy, in which the sister of a man accused of murder convinces a private investigator to try to prove her brother's innocence. Bob Harris doesn't want to take the case, it looks like the police have their man – they have DNA evidence – and the man was too drunk to remember anything that might provide an alibi. In fact, he even concedes he might have done it. Despite his original misgivings, Bob digs in, coordinating with another veteran detective at the local police department and with the public defender assigned to the case. An extraordinary degree of collegiality here.
Although the number of stories containing a double-cross in some variation is understandable in the circles these characters run in, you may be surprised by the number that end with suicide. Naming them would create spoilers, but suffice to say there is a huge array of conditions and difficulties that people find intolerable. These difficulties are sometimes of their own making – the characters are people for whom making bad decisions is an art form – but sometimes awful circumstances are thrust upon them.
As a whole the collection is falls on the dark end of the spectrum, gritty and uncompromising, with a sense that the characters are teetering on the edge of something and may fly off at any moment. Strap on your seatbelt before reading.
Many authors in this collection have had their short stories published in diverse magazines and other anthologies, and their work has garnered numerous prizes. About half of the authors also have published novels, and reading a collection like Jacked is a good way to get a taste of their style.
Run Amok Books
Print
£14.99
CFL Rating: 4 Stars