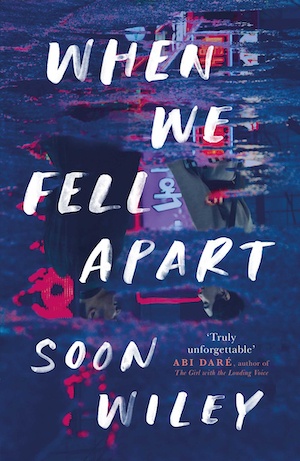 Where do you truly belong? In your ancestral homeland or the country where you were born? Through the eyes of two distinct characters, Soon Wiley's debut novel examines the search for one's true cultural identity. The driving force behind this search is the mysterious death of a young student and her boyfriend's determination to expose the truth.
Min is a biracial Korean American who, despite being born in Los Angeles, has always felt caught between two worlds, never quite fitting in. To reconnect with his roots, he relocates to Seoul to work as a cultural consultant for Samsung where he trains executives travelling to the US in the nuances and complexities of American culture. Until now, he has never visited the country where his great-grandfather is buried, whose language he has never spoken.
When he meets Yu-jin, a local student, everything falls into place and during the ten months they're together he feels like he has found his home. Min's happiness is cut short when Yu-jin's unexpectedly commits suicide and he once again feels lost. However, he refuses to believe she took her own life. Peeling back the layers of Yu-gin's life by speaking with her two flatmates, he finds out details that make him feel he barely knew her. Who was the real Yu-jin?
As readers, we have an insider's perspective and information that Min is unaware of. Yu-jin tells her version of events leading up to her death alongside Min's initial first-person account, providing a dual perspective on the same events.
The picture that emerges is of a sensitive, dedicated, bright young student desperate to flee her suffocating parents and start a new life in the city. Seoul is steeped in colour and sound, its chaos obliterating and overwhelming the senses, but above all, it is a city that offers the potential to be everything you desire. University was Yu-jin's way out and her desire to embrace the future and all of its possibilities. Min realises this is what drew him to her.
Nonetheless Yu-jin's was restricted in what she could do. She had to major in political science and international relations, and her grades weren't to be lower than an A-minus. If she maintained these grades, she could live in an apartment rather than on campus, allowing her to share a flat with her closest friend, So-ra.
On the night of her death Yu-jin saw Min, but afterwards she met So-ra for drinks without mentioning it to her boyfriend. Shortly after she left for the library, telling So-ra that she needed a specific book. For two hours no-one knew her whereabouts.
Detective Park is assigned to the case, but it appears that Yu-jin's father, who also happens to be the Minister of National Defense, wants to prevent the detective from determining the cause of his daughter's death. When Min is pursued by two men, it becomes clear that Yu-jin's father has something to hide, and Min and the detective are forced to continue their investigation in secret. In the meantime, So-ra disappears and Min locates her in a forest retreat run by a cult where Yu-jin's father sent her.
Min also talks to Misaki, their Japanese flatmate, who won't open up because Yu-gin and So-ra treated her with contempt. Eventually, he wins her trust – after all, they're both are strangers in another country, shunned for being different. Min is referred to as a kyopo, a derogatory term for a Korean who hasn't grown up in the country and Misaki is blamed for Japanese crimes going back to World War II.
Misaki also uses the Korean term Han to describe 'the collective despair of being conquered and oppressed for long periods of time, over generations.' Korea, like the novel's characters, has faced identity challenges as a result of being invaded geographically, politically and culturally, and it is unsure of its true identity. Yu-min's father even goes so far as to believe that the country is under attack from foreign influences and its people are worshipping Western culture instead of strengthening their own.
Wiley beautifully captures his characters' struggle and yearning to fit in, the extreme measures they must take to do so, and the pressure young Korean people find themselves under. Aside from being a concise and haunting depiction of societal and cultural pressures, When We Fell Apart is a suspenseful and atmospheric novel well worth reading.
For another perspective on South Korea via crime fiction see The Old Woman with the Knife by Gu-byeong Mo.
Simon & Schuster
Print/Kindle/iBook
£8.99
CFL Rating: 4 Stars