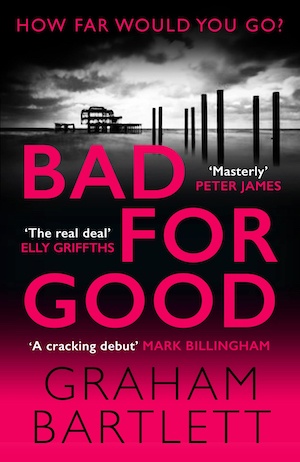 Graham Bartlett spent 30 years in the police, including a spell as Chief Superintendent in Brighton, the location of his debut novel Bad for Good. He has advised many of our favourite crime writers and TV shows on policing issues in the past including Anthony Horowitz, Mark Billingham, Elly Griffiths, Peter James and Dorothy Koomson. Now he's turned his hand to his own police procedural and Bad for Good is an intriging read.
Wayne Fanner beat up his girlfriend and wound up in custody. When he's released on bail, an Audi corners him in a remote car park out of the city. The aptly named Crush watches as four of his men lay into Fanner with steel batons. The girl's father paid for a spot of revenge. By the time they bundle Fanner into their car he's already pretty smashed up but it won't end there.
When Fanner comes round he's in a cell once again. There are others with him, only this isn't a police station. Crush works for the cold blooded but calculating Doug Robinson – a businessman and vigilante who has a plan for managing the city's growing crime problem and making money in the process.
Detective Superintendent Joanne Howe is head of major crimes and she loves her job, even with the sexism, the budget cuts and the pressure. However, crime is up, drugs are out of control and the city seems to be getting more violent. The police are being overwhelmed.
Then she catches the case no one wants. Her colleague Chief Superintendent Phil Cooke is close to retiring, his wife is dying of cancer and now someone has murdered his son, Harry. Harry was a promising footballer, about to sign a professional contract with the Albion. A knife to the heart and another young life cut short.
Marco is a petty drug dealer, his gang has a pitch in Patcham, an estate in the suburbs. The boss always wants more though, and it's nasty on the streets. When they are confronted by an old man complaining about the drugs they beat him senseless. Marco is forced to hide out because Joanne wants to talk to him and she's not the only one, Crush is also looking for him.  
Phil has faith in Joanne but knows that the inquiry is under resourced. Then he gets a call from a man offering to find Harry's killer and fix him, permanently. Only there's a price. It's attempting offer for a grieving father. This is already a troubled place but things are going to escalate – what's coming is going to be shock to the system. The press, the commissioner, rifts in the force – Joanne has never been under this much scrutiny or pressure to find a killer.
There's a fine line with correct procedure and keeping the action moving. Bartlett doesn't always keep the right side of the line. At times Bad for Good is slowish, but this doesn't undermine the story. In fairness, he wants the reader to understand how the politics and paperwork, cutbacks and crises affect policing. This point is well made. Misogyny and the incompetence of career-focused police officers as well as the human cost of crime are well portrayed.
As a debut, Bad for Good augurs well. It might be set in Peter James territory, but it's a world away from that of Roy Grace. Once it gets going there's a breath-taking energy to this story and a blistering denouement. It's a confluence of bad actors tearing it up in and around Brighton that is bold and entertaining. Bartlett gets that action makes for pace.
The novel cleverly forces the reader to consider their own reaction to crime. When vigilantes take out some bad guys, how do we feel about that? Clearly, while the crime writers Bartlett has worked with learned from him, he was taking in a great deal as well and knows how to tell a story. The characters have personality and I'd welcome a second outing for Joanne Howe. This is an impressive debut, an explosive introduction with an intriguing premise. It'll be interesting to see where Bartlett goes next.
Also see the DS Heckenburg series by Paul Fitch, or Mark Billingham's Tom Thorne novels.
Allison & Busby
Print/Kindle/iBook
£4.99
CFL Rating: 4 Stars