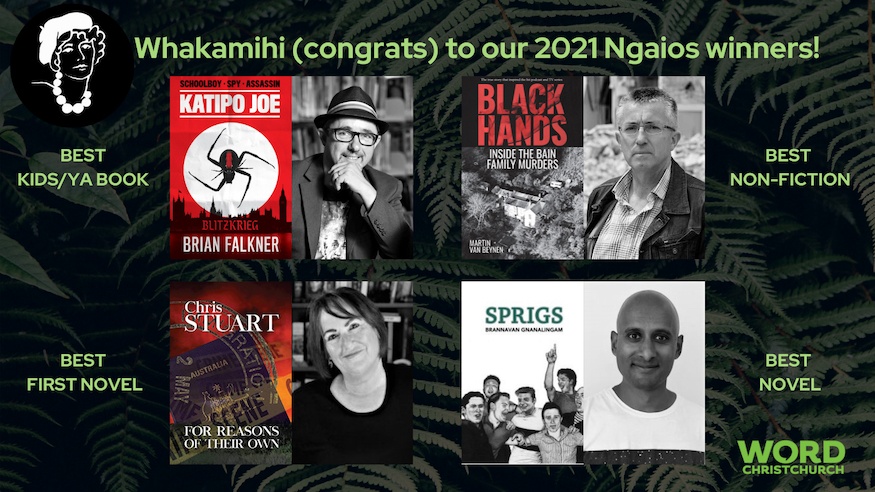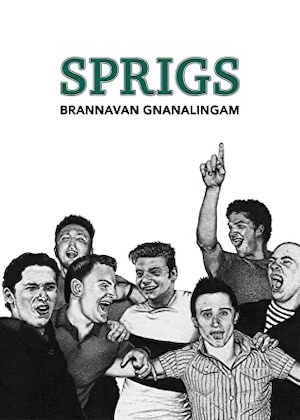 It's a great time to discover some new New Zealand crime fiction – and what better place to start than with the 2021 Ngaio Marsh Award winners?
A pared-down online event held at the weekend revealed the recipients in an unprecedented four categories – Best Novel, Best First Novel, Best Kids'/YA Book and Best Non-Fiction – with all four winning books exploring questions of truth, power, crime, and justice through the prism of compelling narratives.
"In another tough year for many, including our authors and judges, this year's winners have emerged from a superb list of finalists and diverse array of entrants as a wonderful showcase of Kiwi storytelling," said Ngaio Marsh Awards founder Craig Sisterson, who helped present this year's awards over a livestream event held in association with WORD Christchurch and the Words & Nerds podcast.
Brannavan Gnanalingam scooped the Best Novel prize with Sprigs, a devastating read that explores the impact of sexual violence on victim, perpetrators, family and the wider community. "Engaging, disturbing, and powerful storytelling," said the international judging panel, praising how Gnanalingam took a panoramic view of an horrific crime and explored deep questions of privilege and toxic masculinity. Accepting the award, Gnanalingam spoke of how he'd written Sprigs as his take on a crime novel, both using and subverting some of the tropes and structures historically associated with the genre. Hopefully it will be available soon in the US, UK and beyond.
Debut author Chris Stuart's For Reasons of Their Own took Best First Novel. It's the tale of a detective caught in a murder case entwined with terrorism and corruption in aid organisations, which the judges said offered "…writing and characters that cry out for an ongoing series."
The biennial prize for Best Non-Fiction went to journalist Martin van Beynen for Black Hands, a gripping and comprehensive account of the Bain family murders, which rocked New Zealand in the mid-1990s and have been making headlines ever since. "A brilliant insight into the whole case; in-depth, thoughtful, and carefully constructed," said the judges.
Brian Falkner scooped the first-ever Ngaio Marsh Award for Best Kids/YA Book for Katipo Joe: Blitzkrieg, the story of an adolescent New Zealander recruited by British Intelligence to infiltrate the Hitler Youth in 1930s Europe. "A ripping thriller for older children and young adults that raises all sorts of questions about loyalty, nationalism, and the loss of youth in war," said the judges.
The quality and quantity of books for younger readers entered in this year's Awards forced the addition of the new category ahead of plans, said Sisterson. "Getting kids engaged in reading is so vital. New Zealand has long been blessed with some amazing kids and YA authors, and we're stoked to be able to celebrate those who chose to write tales full of crime, mystery and thrills."
For more on the Ngaio Marsh Awards, visit the organisation's Facebook page.