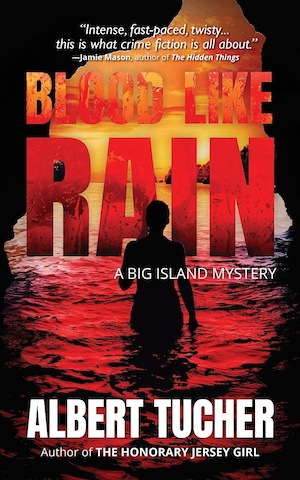 Albert Tucher creates a tropical getaway between covers in his series of Big Island Mysteries, indelibly drawing his characters from the diverse culture of the Hawaiian Islands. We've previously reviewed The Place of Refuge. His protagonist, Hawai`i County police detective Errol Coutinho, has his hands full from the first page when he's called out on a homicide case and discovers the victim is his wife's best friend, Eleanor Swieczak. Coutinho wasn't crazy about the woman, but his wife will be devastated.
Because of the personal connection, Coutinho asks his partner, Harlan Kim, to lead their investigation and throughout the story he has to remind himself that it's her case. Being in charge just comes too naturally to him. Their lead suspect is Eleanor's new boyfriend, Jerry Wyatt. Not only does he have a murky past, he's disappeared. Also missing is Eleanor's Mercedes.
Having Kim in charge has an advantage: Coutinho's wife Lucy can work the evidence. She's the best crime lab technician the department has, but she's barred from cases her husband is lead on. And she really wants to dig into this one. Over the course of the story, her science and her insights about her friend prove invaluable.
Pakalolo. Hawaiian weed. Many marijuana aficionados consider it the world's finest. At the top of the island's significant pakalolo enterprise is a well-established drug entrepreneur named Morrison, in his late middle age. If part of Wyatt's mysterious background involves the drug trade, Morrison will know. Coutinho and Kim make Morrison's home one of their first stops. But he seems to have cleared out too. Rumour has it that he and another drug lord – the violent but elusive Trondheim – are waging a war off the coast. Small shore boats have to cross some treacherous waters between the island's south shore and the big boats out in deep water. Waters made considerably more dangerous if somebody's shooting.
These rumours are substantiated when a body washes ashore on Kamilo beach on the island's southeast coast. Kamilo beach was once lovely, but it's caught in the gyre of the Great Pacific Garbage Patch, and the area's unique currents now deposit a constant stream of trash there. A volunteer cleanup crew discovered the body atop a pile of plastic garbage.
Author Tucher's encyclopedic knowledge of the Hawaiian Islands comes constantly into play in these novels. They aren't stories that could happen just anywhere, and he does a great job weaving the unique settings into his plots: a body on a garbagy beach, a breakneck trip in a four-wheel vehicle down the steep and narrow road into Waipi'o Valley that's enough to give you vertigo.
It helps Coutinho's research in this case that Morrison's daughter is Diana Andrews, a woman living in New Jersey whom the detective met on a previous case. Andrews is a former prostitute and has appeared in many other of Tucher's stories. Now she's the director of a security firm and doesn't pull any punches. She gives him carefully considered but accurate information about many of the participants in the drug war.
Was Eleanor's death the first indication of this conflict? Or, was her death a one-off, a car theft gone wrong? The pieces start to look like they'll fit together when she's tangentially linked to the deaths of two reporters investigating the pakalolo business some 20 years earlier. The murders have started up again and as the investigation proceeds Coutinho and Kim have an increasing number of bodies in the morgue to deal with.
So, Coutinho and Kim are trying to figure out an organised crime drug smuggling operation with ties to New Jersey, Montana, California, and Hawai`i, reopening a double homicide everyone had given up on, and, getting back to the original subject, attempting to explain the death of Lucy's friend Eleanor.
Tucher has a knack for creating interesting characters, and may go a bit overboard here, with several sets of siblings and an improbable number of twins. It made me glad I was reading this in print, not listening to the audiobook, because I don't know how easy it would be to keep them all straight without flicking pages. Even a former wife of Coutinho's makes an unwelcome appearance. She is, of course, a twin. Family feuds are always the worst and seeing how the several families tangled up in this story treat each other, it will make you grateful if you're an only child.
You can read Tucher's novels for their complicated plots or for characters you'll come to enjoy. Diana Andrews is always a treat, and Coutinho and Kim are solid partners. You'll also like their boss, Lieutenant Tanaka, and a young female officer, Jenny Freitas, who has 'a knack for being in the right place at the right time'.
For more island murder mysteries try Fire on the Island by Timothy Jay Smith or Riccardino by Andrea Camilleri.
Shotgun Honey
Print/Kindle
£3.65
CFL Rating: 4 Stars