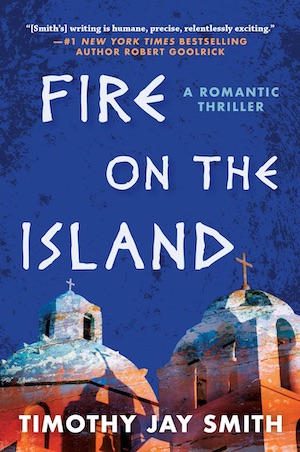 Lockdown is a bummer, isn't it? But the great thing about reading is that it can transport you to somewhere completely different in the mere flick of a page. These days you can find crime fiction set in all manner of locations, both humdrum and exotic. So how does an idyllic Greek Island grab you?
Welcome to Vourvolos, a pretty village on a small Greek island so close to Turkey that some unwitting swimmers have tried – and failed – to swim the distance between them. Nick Damingos is a new arrival (by boat, he's no fool) and he's soon thrown head first into village life, helping out when a fire threatens a home and its occupants – and earning the nickname Superman in the process for rescuing the family dog from the blaze.
Nick is ostensibly a writer, hoping to find his muse in the tranquil surroundings. He's not the first would-be author to have stayed in Vourvolos and the villagers accept his story without question. But it's a lie – because in reality Nick is an FBI agent, stationed in Athens, who has arrived in response to a letter from the village mayor. The fire Nick witnessed was the 10th to hit the island and all indications point to blaze number 11 targeting the Coast Guard's fuel tank. If that goes up, it'll take the whole village along with it. It's imperative that the arsonist is stopped – but who is it and what could be their motivation?
The investigation runs through this romantic thriller like a stream through the mountains, but both Nick and we readers are about to get side tracked – again and again. Timothy Jay Smith creates a spider's web of supporting stories featuring a cast list of interesting characters. There's Athina, approaching her 18th birthday and discovering that adulthood isn't all it's cracked up to be; Albanian refugee Ridi, determined to make a good life for himself in his new home and to win Athina's hand; restaurant owner Lydia, whose amateur investigation of the series of fires has brought Nick to Vourvolos: rival restaurateur, the sexy and sultry Vassoula; village priest Father Alexis – a man with a secret he must hide at all costs; and Takis, who is the brother of Vassoula and set to become Nick's love interest – but can he be trusted?
They're a lively and entertaining bunch, although occasionally Smith teeters alarmingly close to the edge of cliche, but that aside you'll soon be immersed into the minutiae of life in a small village, with all its whimsy, backbiting and rivalries. There's even a jarring reminder of the realities of modern day island living in the dramatic and sometimes tragic scenes of desperate refugees arriving in small, ill-equipped dinghies at all hours of the day and night. They've left everything behind in the hope of finding a place of safety – but the reality is something of a shock for the new arrivals and some villagers aren't happy sharing their island with the incomers.
Smith sets out his stall with a lightness of touch, creating such realistic settings that you can almost smell the wild thyme, the ouzo and sardines and feel the heat of the sun on the back of your neck. Yes, this book is a thriller, but it also boasts an almost travelogue feel too – and then there's the romance, threading through everything and creating a cosy glow even in the face of fires, tragedy and – yikes – spiders! It's a tough ask for a writer to combine all of these elements and create a satisfying reading experience, but Timothy Jay Smith deserves a pat on the back for pulling it off with aplomb.
The Greek Islands post-World War II feature in Gavin Scott's the Age of Olympus, and also in Jeffrey Siger's Andreas Kaldis mysteries.
Arcade/Crime Wise
Print/Kindle/iBook
£13.18
CFL Rating: 4 Stars