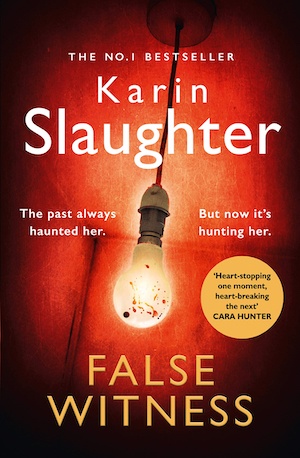 American author Karin Slaughter writes both standalone thrillers and series, and her new one, False Witness is a standalone that offers an engrossing read. "The past is never where you think you left it" reads the epigram from Katherine Anne Porter, and it's perfect for this story.
The book begins slowly, back in the summer of 1998, with Callie and Buddy's uneasy relationship that, for his part, seems to revolve solely around sex, rough sex, and keeping his ten-year-old son from knowing what he's up to. Where is this going?, you may wonder, when Slaughter slaps you in the face with a major surprise…
Then it's spring 2021, and Callie's sister Leigh is called on to defend a serial rapist whose crimes are especially brutal. Leigh works for a prestigious law firm in Atlanta, Georgia, and she's brought in just days before jury selection begins. The demeanour of the defendant, Andrew Tenant, is off-putting, but the founder of the firm has asked her to take on the case and she can't say no without risking her job. Soon she realises her creepy new client is the grown-up boy from long-ago, when she was his baby-sitter.
Something bad happened back in 1998, involving Callie and Leigh, and they've kept the secret ever since. To Leigh's dismay, Andrew knows all about it, and he's not above using emotional blackmail to manipulate her into mounting a vigorous defense for him, even though she's convinced he's guilty. He's gotten his hands on the rape victim's college health record, which includes the details of numerous mental health counseling sessions, and insists Leigh use it to tear the woman apart on the witness stand.
This is quite a dilemma for Leigh, who can't sabotage the defense in any way, certain that Andrew would not hesitate to harm her teenage daughter, her husband, or her. Or Callie, if he could find her. When Andrew barrels back into Leigh's life, she and Callie are estranged. Callie's difficult, with long-standing substance abuse problems. Some of the most poignant parts of the story are her attempts to calibrate the drugs in her system so she can cope with the demands posed by Andrew's threats.
With difficulty, Leigh locates Callie and deposits her at their mother's house for safekeeping, a concept you can apply only metaphorically in the case of their mother, Phil. Here is another woman with problems, one of which is having no understanding of or interest in the idea of mothering – now or 23 years earlier.
Leigh, growing up in such a neglectful, even hostile environment, blighted by secrets, has miraculously found a good and compassionate husband. Her demons have caused him to leave taking their daughter with him but they are still close and he is cheerfully accommodating. If Leigh could get herself together, they'd likely reconcile almost at once.
Another extreme character is Andrew's fiancée, Sidney – interestingly, another woman with a man's name. Mostly she goes super-goth and is not expected to be an asset at the trial. Andrew has a plan for that too – he'll marry Sidney right before the trial starts, thinking she can't then testify against him.
Another benevolent personality in the mix is Callie's boss at the animal clinic, Dr Jerry. He has early onset dementia and has become a bit vague at times, but Callie keeps him organised and on task. Meanwhile, she pilfers undetectable amounts of drugs from the clinic's stores. She's not so far gone she doesn't feel guilty and embarrassed by this, only desperate.
The story is set in the midst of the pandemic, and though it's not about COVID, the characters' everyday lives are affected by it – the masks (or not), the court schedule. It is part of the realistic background of the story. Slaughter, who lives in Atlanta, set the novel there, though you don't get much feel for the city in this story.
Occasionally, the author breaks in and delivers a lecture on, for example, the way drug addiction affects the brain, scientifically, which derails the story for a few paragraphs and feels unnecessary. Readers put off by cursing will have much to complain about.
I personally found Leigh a bit repetitive and tiresome with her guilt and self-doubt and her willingness to jump to wrong conclusions about what the other person is feeling. It felt cliché to make Andrew super-wealthy, and he was over-the-top slimy, but then a total psychopath would also have been too extreme.
If False Witness sounds interesting also see Long Bright River by Liz Moore or Waiting for the Night Song by Julie Carrick Dalton.
HarperCollins
Print/Kindle/iBook
£ 7.37
CFL Rating: 4 Stars