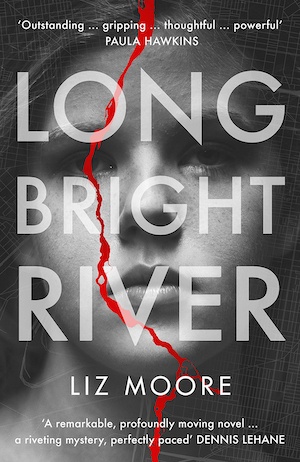 Long Bright River came out in paperback in December 2020, but is receiving renewed attention because of the number of best-of-the-year lists it appears on. Apparently, Barack Obama called it one of his favourites.
There are really three main characters in Liz Moore's novel. The first is Mickey Fitzpatrick, a 30-something Philadelphia police officer who loves her patrol job. She likes knowing the Kensington area that's her beat, who lives there, who serves the best coffee, who the working girls are, and generally trying to keep a lid on things.
Mickey is called out to the site where the body of a young woman has been discovered by disused train tracks. The terror coursing through her body doesn't let up until she discovers the dead woman is not her sister Kacey. This is our second key character –a many-times-relapsed drug user who's disappeared. Mickey fears the worst.
The third significant character is Philadelphia itself, whose gritty neighbourhoods and obscure loyalties have a life of their own in Moore's telling. Mickey has tried many times to pull Kacey away from the dark side, but every time, the drugs ended up more compelling. That's an old and familiar story, but the way Moore builds the relationship between the sisters makes it compelling nonetheless.
Mickey is the older of the two and the quiet, bookish one. Kacey was the social butterfly, who gladly took her sister along in her teenage years. Their mother died of an overdose, and their father left. Mickey kept hoping he'd come back until the local rumour mill revealed that he'd died too. Their grandmother, a strict and bitter woman, didn't have much money or affection to share and probably handled Kacey exactly wrong. She certainly stepped on Mickey's ambitions at every opportunity.
Now Kacey is in the wind and Mickey spends every opportunity on her shifts to look for her. At least at home there's her wonderfully bright son Thomas, in the hands of a desultory babysitter. The difficulties of single motherhood are heartfelt here. Thomas's dad is an older man, a police detective, who first befriended (one could say groomed) Mickey when she was in her mid-teens. He listened to her, gave her understanding and advice, and she responded to the kind of warmth he gave, which she never received at home.
Especially enjoyable are the scenes with Mickey's extended family – aunts and uncles, cousins – whom we meet when she drops in unannounced for Thanksgiving. There are some bad apples in there, including drug dealers. Mickey, with her hard-won academic achievements, is a fish out of water with them. "All the O'Briens took pride in doing only what was practical. A life of the mind – even a profession like teaching – seemed to most of them prideful in some way. Work was done with your body, with your hands. College was for dreamers and snobs."
Mickey doesn't fit in at work, either. She's never told anyone that her son's father is a detective who works downtown, and her boss seems to actively dislike her, never cutting her any slack. As more local prostitutes turn up dead, Mickey is increasingly frantic and takes some liberties with departmental rules. Her suspicions about who the culprit might be are mostly ignored and even backfire.
The serial killer theme has been done to death, and the good-girl/bad-girl dynamic is a crime fiction staple. However, the quality of Moore's writing and the honesty at the novel's core make these themes fresh again. For young women like Kacey, the risks are ever-present and feel completely realistic. By delving into the sisters' relationship as it developed in girlhood, Moore puts her story on a firm footing. Even though Kacey and Mickey are now estranged, Mickey's actions to find and save her sister are grounded in their emotional truth. Plus, Moore delivers some surprises along the way that will keep you turning pages.
If you like this, try Blood Secret by Jaye Ford or One By One by Ruth Ware. Long Bright River is also a little reminiscent of Mystic River by Dennis Lehane, who has recommended it.
Cornerstone Digital
Print/Kindle/iBook
£ 2.99
CFL Rating: 5 Stars