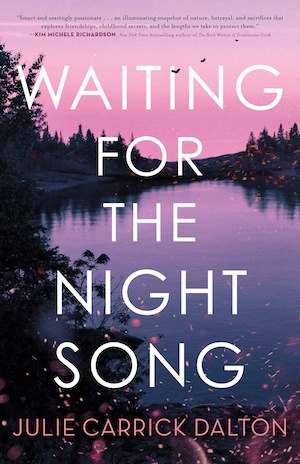 Debut author Julie Carrick Dalton deserves praise for making concerns about important social issues – climate change and immigration – an integral part of her new novel. It isn't always easy to do that without turning a book into a lecture or consciousness-raising exercise. In this case, the story remains uppermost, and the characters themselves embody the (mostly) good impulses.
One memorable summer, about 25 years before the present day of the novel, a friendship was forged between two girls living on the shore of a New Hampshire lake. Cadie's parents were artists, and Daniela's parents, the Garcias, owned the hardware store in the nearby town of Maple Crest. And they harboured a dangerous secret. A decade earlier, they'd come to America from El Salvador as illegal immigrants, fleeing a violent military government which was supported by the United States. In New Hampshire, with their expensive false identity papers and new names, Raúl Garcia became an established businessman but he, his wife Dolores and daughter Daniela have never escaped the fear of being discovered and sent to an almost certain death.
When Cadie discovers a boat floating on the lake early one morning with no one to claim it, she uncharacteristically seizes it and makes it her own. She and Daniela spend many hours exploring the lake and picking blueberries in distant coves. Their travels take them past the dock of another cabin where a boy their age watches and waves. His life there with his Uncle Clyde is insanely boring, and they leave him books to read. One day, as Cadie approaches their book drop-off point, she hears but does not see an argument that ends with a gunshot.
It transpires that an immigrant farmworker whom Daniela's family knows has been killed. For complicated reasons, Cadie, Dolores and the boy from the dock bury the man in the woods – afraid any investigation will bring the Garcia family's illegal status to light. Dolores swears Cadie to secrecy and, indeed, she never tells anyone, not even Daniela, but the secret destroys their friendship and the guilt never leaves her.
Twenty-five years later, the body is discovered, and Daniela asks Cadie to return to Maple Crest. Her father, who'd had an argument with the dead man the day he was murdered, is being questioned about the cold case. She and Cadie know he had nothing to do with it and may have to say so.
Cadie finds that, despite the passage of time, the family's fear of deportation is still alive and an anti-immigrant sentiment has overtaken the community. Still, the hardware store is thriving, and Daniela has a feisty daughter. For her part, Cadie has immersed herself in her work, tracking the destructive bark beetles whose northward march is killing New Hampshire's trees at latitudes thought safe from those critters. The growing number of dead trees peppering the forests means destructive wildfires are almost inevitable.
Answering Daniela's summons, Cadie ends up back in Maple Crest for the first time since that consequential summer. What she learns about the long-ago murder, the origin of Raúl's fears for his family, and what became of the boy on the dock and his Uncle Clyde constitute the rest of the story. Uppermost in Cadie's mind is the fear and loathing she has for Clyde. He once threatened her with exposing the Garcias if she ever revealed what she knows. In short, everyone has been dealt a full hand of secrets, as dangerous as the fires that loom on the horizon.
Author Dalton has created an interesting plot to weave all this together. Enjoyment of the story is marred by excessive information about Cadie's immediate state of mind. Authors are told to describe what their point-of-view character is feeling, both physically and emotionally, but here there's too much of it. In a scene where a big reveal is coming or tension is high, the moment loses steam when the action is stopped for these minute and repetitive descriptions. They weigh the narrative down. Also, they invite reader talk-back. When for the umpteenth time, Cadie goes into her long-standing fear of the Clyde, you may start to think, "Wait, you're a successful academic researcher. You're doing important work. You're almost 40 years old. Suck it up."
That being said, this is a first novel, and if Dalton can better balance descriptions of her character's internal world with those of events in the external world, she should produce some fine work.
Click here to discover some more cold case mysteries.
Forge Books
Print
$18.82
CFL Rating: 3 Stars