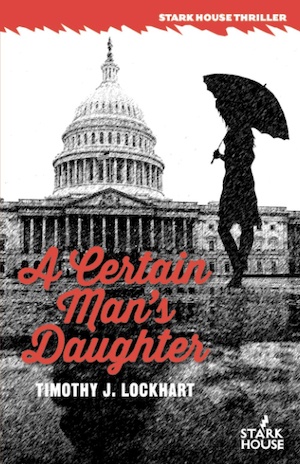 Stark House Press does a grand job bringing classic American pulp novels to a new audience and occasionally publishes contemporary tales that catch the spirit of those mid-20th century originals. Timothy J Lockhart's A Certain Man's Daughter, the title drawn from a poem, is in that vein. It's pacy, lean and peppered with cynicism but then this is a story of Washington, blackmail, sleaze and murder. Lockhart's first two novels, Smith and Pirate, were high-octane adventures. This is a little laid back by comparison but is nonetheless an enjoyable hardboiled read with snappy dialogue and a touch of humour.
Old flame Lisa Lindstrom suddenly breezes back into Robert Shipley's life after seven years. He has good reason to turn her away, after all, she dumped him and it still hurts. This is the moment Robert Shipley can save himself from all the heartache and pain coming down the road. He's a commercial lawyer, but Lisa needs a criminal specialist, someone familiar with extortion because she's being blackmailed. All he has to do is turn her away but he's still stupid for Lisa.
Half-heartedly Robert advises Lisa to go to the police but she's is not biting, her heart is set on Robert championing her cause. So, putting aside their law school attachment, Robert tries to focus on Lisa's problem – a video showing her in flagrante with another woman. Lisa's tech billionaire husband, Daniel Strawbridge, isn't the possessive type but this might test his tolerance. His jealousy is not the only problem though, the blackmailer doesn't want money. Lisa's father is a Virginia senator who is retiring soon and she expects to inherit his seat. That's democracy for you. The blackmailer wants her to publicly declare she won't run for office.
Lisa's lover is Cate. The pair met in a seedy bar when Lisa and political lobbyist friend Tommy Osborn were slumming it one night. Lisa and Cate, a stripper at the 1776 Club, started seeing each other about a month ago. Of course, there's her marriage to consider but if the story broke there's no way to know how it would play in the political arena. This is an unknown factor Lisa won't risk.
Robert, arm twisted right up his back, visits Cate. Lisa says she's not involved in the blackmail but her judgement is a little skewed on this one. When Robert arrives at Cate's place things get nasty – she's been shot dead. Robert scrambles around looking for something to throw light on the extortion and turns up a business card: William A Murphy. He leaves the crime scene and anonymously calls in the killing from a street phone box.
Lisa knows William 'Bill' Murphy, chief of staff to Al Wheaton, her political opponent. So there are two likely suspects with knowledge of the affair: Bill Murphy and Tom Osborn. With nothing to go on Robert decides to stir things up by throwing accusations around, hoping to shake something loose about Cate's death. Powerful people don't like being accused of murder and Robert's knack for getting people's backs up is a dangerous one. Staying out of the frame for murder and keeping Lisa out of the limelight altogether while trying to find a killer is tricky enough but then someone takes a shot at Robert. It's all getting very personal.
A Certain Man's Daughter has a straightforward plot and it's the characters, their sense of mystery and their interaction that bring the story to life. Particularly Lisa – femme fatale or genuine friend in need? And Robert, lover being played or smart cookie sick of being pushed around by political types uses to getting their own way? You will fly through this novel. The twist, which you may see coming, adds a touch of noir to a hardboiled tale.
Timothy J Lockhart served as an officer in US naval intelligence and worked for the CIA for many years before becoming a writer.
Also see Skim Deep by Max Allan Collins, which we reviewed recently.
Stark House Press
Print
£12.32
CFL Rating: 4 Stars