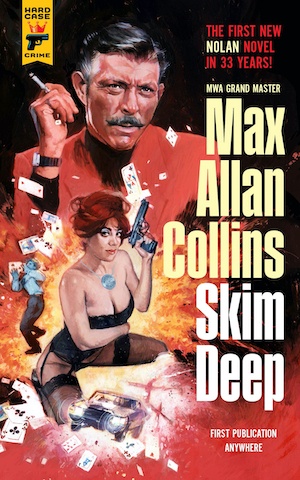 Nolan, no first name, is a middle-aged man and former professional thief. These days – it's 1986 in the story – he's married and retired from armed robbery. He remains on good terms with the Outfit, the mafia-like criminal mob he occasionally worked for or ripped off, depending on his needs at the time. Now he owns and runs an upmarket night club in Moline with his much younger wife, Sherry.
Nolan is still a tough, intimidating man, but is pleased to have put his previous, dangerous past behind him. He's looking forward to their honeymoon in Vegas and spending time with his wife at the shows and at the card tables. They'll be staying at the Four Seasons and when they arrive he's excited to find Jon, the young man he mentored in the robbery business, who has also gone legit, is working as a musician in the entertainment lounge.
A misunderstanding on the gaming floor brings a meeting with another past acquaintance – Harry Bellows works for the Chicago mob, and it turns out the Four Seasons is one of the few remaining Vegas casinos still under mob control. Nolan has been recognised as a thief by someone at the casino, and security has taken him to the basement for a beating before running him out of town. Bellows knows Nolan is retired and vouches for him.
Not everybody is so happy with Nolan though. Maw Comfort is the matriarch of a Jefferson City, Missouri crime family. She thinks it was Nolan who put two of her sons in the ground, and Maw is out for revenge. Her only remaining son, Daniel, is the white sheep of the family, having taken a job in the straight world. Maw knows she'll have to work with what she has, and when Daniel tells her he's in a hole and needs money fast, Maw sees her opportunity. Bring back Nolan's head she says, and she'll give him all the money he needs.
Bellows, as second in charge of the Four Seasons, is in charge of delivering the monthly skim to Chicago. This month it's an impressive $700,000 dollars and a tempting target for any would-be thief. When it goes missing, Nolan is in the frame, and his assurances of being retired just don't cut it. Even if Nolan and his friends can get out of this fix, he'll still have Daniel waiting for him at home.
Collins is a veteran writer, and back in the 80s wrote a series of Nolan books. Now, 33 years later, he has resurrected the character. In his brief author's introduction he acknowledges the debt he owes to Richard Stark's Parker novels, and there are clear similarities between the two master thieves, though Collins has humanised his more. The writing is similarly paired down, and description and character development are kept to a minimum and to serve the action-orientated plot.
Skim Deep might not reach the heights of the Parker novels, but it is nonetheless a fun, fast-paced pulpy ride with plenty of humour and sex. I prefer Collins' Quarry novels, but there is enough here to make me want to check out the original series which Hard Case crime is re-publishing throughout 2021, beginning with the first book, Two for the Money.
Why not check out some of our other reviews of Max Allan Collins' novels including Killing Quarry and Quarry's Deal?
Hard Case Crime
Print/Kindle
£5.99
CFL Rating: 3 Stars