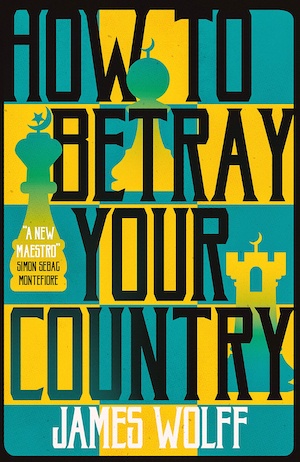 How to Betray Your Country is the second book in a planned themed trilogy exploring the ways an individual spy might turn traitorous. It follows on from Beside the Syrian Sea, in which an English spy attempts to trade national secrets in order to free his father, held captive by ISIS. The author uses the pseudonym James Wolff and has been 'employed by the UK Government for 10 years', which we'll take as meaning that he or she knows more than a little about the state security and intelligence businesses.
Things get underway with August Drummond on a flight to Istanbul. He's been drummed out of the UK's security services after he attacked a colleague during a disciplinary hearing. Drummond had been accused of being behind a number of relatively low level security breaches and behaving as a kind of Robin Hood figure to gain justice for various individuals who, for strategic purposes, were ignored by the security agencies. Drummond was guilty of all this, and more besides, but it was an offhand remark about his wife's death by his colleague Lawrence that made him lose his temper. Martha died suddenly just a few weeks prior when she was knocked off her bike by a truck on the streets of London. Since then Drummond has been falling apart.
A fellow passenger on the plane has caught Drummond's attention. The young man looks anxious and furtive, and Drummond, drunk and bored, decides to follow him when they disembark. Police are waiting for the man at the airport, but before he is arrested he hides a secret message. Drummond recovers it, establishes it as the time and place for a meeting that evening in a local cemetery, and decides to take the man's place, heedless of the risks involved.
He meets an Iraqi man whose identity is hidden and learns that his role is to pass illegally into Syria where he will join up with other Daesh recruits. Drummond is struck by the man's competence, and reckons him to be a high-level recruiter. Faced with the awful prospect of life without Martha, and possessed with a determined fatalism, Drummond decides to let events play out without informing Turkish security organisations about what he is doing.
The following day, Drummond turns up for work at his new office. He has been employed by a private communications team tasked with presenting the UK in a positive light in the Middle East. To his surprise and amusement the service liaison between his old and new employers is Lawrence. His first task is to assess the suitability of a Syrian refugee, Youssef, who has come looking for work. Youssef is desperate for money so that he can travel to Europe to search for his family, who fled the Syrian regime. Drummond knows he can't use Youssef but is sympathetic to his predicament and befriends him.
I found it impossible to read How to Betray Your Country without thinking of the Slough House novels by Mick Herron, which have dominated contemporary British espionage fiction in recent years. Wolff shares Herron's ability to quickly and convincingly draw characters, and especially to capture their sympathetic qualities. There is humour and sadness in their situations and, like Herron, Wolff makes this more important than the plot. With Drummond setting out to confound the meddling Lawrence, help Youssef and extricate himself from Daesh, I found myself more concerned with how he would manage to stay true to his wife's memory.
When your country and your loved one are at odds, what is most important? This is what Wolff is asking. How to Betray Your Country answers it in the most eloquent fashion.
For more espionage, click here.
Bitter Lemon Press
Print/Kindle
£5.69
CFL Rating: 5 Stars