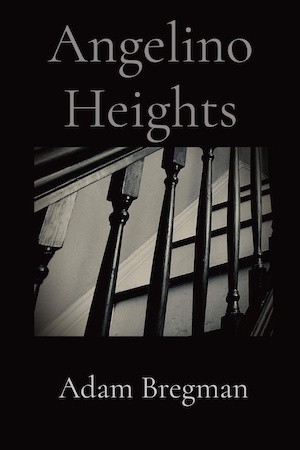 Quirky thrillers that don't follow typical hero's journey plotting have great appeal. You really don't know what's coming next. Adam Bregman's debut thriller is one of these books, with the quirkiness intensified by the characters' passion for the Los Angeles of decades ago. The story is set in the late 90s, and the protagonists are on the hunt for classic neighbourhoods, bars that have lived through innumerable trendiness cycles and other vestiges of California when it was still that shared national dream of The Golden State.
You're first introduced to Nathan Lyme, a youngish man who begins the story with a long rant about the infelicitous changes wrought in his city. "It's not that I'm opposed to change. It's just that I prefer they don't change anything, unless it's somehow for the better." Before long, you realise Nathan's fussiness doesn't apply to his own behaviour, as he rifles the coats and handbags of guests at a house party he briefly attends.
Next up is Dalton Everest, a high school teacher, short to Nathan's tall, who prowls for vintage watering holes too. Happening to sit next to each other one night at a bar, they strike up a conversation, then an unlikely friendship. Nathan is everything Dalton is not – good looking, charming, a risk-taker and street-smart. He's also very private about how he makes a living. He's a thief, with a lucrative gig robbing the homes of wealthy vacationing Angelenos. When they lock their front door behind them, the next person inside will be Nathan.
But Nathan, whose life story you eventually learn, is lonely. He wants a partner in his crimes. And he thinks Dalton is reliable and congenial enough to assist him in his long string of car thefts and burglaries. They provide him a comfortable lifestyle and the blood-racing prospect of danger.
At first Nathan uses the heavy-drinking but beautiful French woman Melanee to lure Dalton in, but that approach goes badly awry, and he ends up making his pitch flat-out. To Dalton's own surprise, he goes along with Nathan's proposal to team up, getting in deeper and deeper, and pretty much terrified every step of the way.
Finally, you meet Orlando Talbert, a morose Black LAPD detective concerned about a career advancing at a snail's pace who would like to have one spectacular score to jump-start the professional recognition he believes is his due. He makes a success of cases he's assigned by pursuing them relentlessly, and you know he's potentially Nathan and Dalton's nemesis. Nathan isn't one to make mistakes, but Talbert is such a bloodhound it will take only one slip-up by Nathan or Dalton for him to suss them out.
It's a fast-paced read, nicely written, with strong dialogue. Author Bregman has brought to the page his own enthusiasm for the remaining old, odd bits of the city and his encyclopedic knowledge about its eccentricities – geographical, architectural and sociological. Reading the book is like a tour with a most interesting and entertaining guide.
For another gonzo tour try Naked Came the Florida Man by Tim Dorsey.
New Plains Press
Print/Kindle
£7.70
CFL Rating: 4 Stars