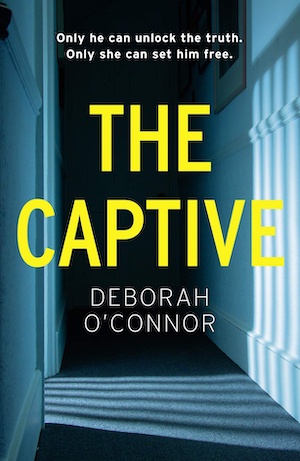 If you knew that if you pressed charges against the man who had murdered your loved one, you would be forced to host the prisoner in your home, would you do it? Or would you refuse to go ahead with the conviction? That's the dilemma faced in The Captive by Deborah O'Connor.
When Hannah's Met detective husband John is knifed in an alley for a few quid she's fuelled by a need for justice. As this high concept thriller opens Hannah is about to lock John's killer Jem in a cell in her kitchen and she faces living with this burden for his 20-year stretch.
We are in the near future and restorative justice, which sees criminals meet their victims, has been taken to its extreme conclusion with the Domestic Prison Service. The concept has been dialed up in this future London so that prisoners are forced to live and breathe the consequences of their crimes and become a better person.
The upside of this is that it is a lot cheaper for the state than keeping jailbirds banged up in prisons. The downside is that it makes prisoners of the victims or their families too, forced to provide meals and wash clothes, whilst some vengeful hosts seize the opportunity to abuse their captives or even kill them. There's also the risk of a lawless society in which criminals walk free.
Before you think this is a stretch too far, stick with it. After all, local police years ago had holding cells within their homes. It's an ingenious premise.
Jem is incarcerated in Hannah's kitchen, locked in a cage the size of a parking space with just a table, bed, basin and chair and two showers a week in the family bathroom under supervision. He's unwelcome company and she's angry and terrified. What's worse is that she bakes fancy cakes for a living so they'll be spending a lot of time together in the kitchen.
The moment they are alone he's telling her that he's innocent, that he didn't kill her husband. But Jem was caught on surveillance camera entering the alley by the pub in Shoreditch, London, where he worked and his DNA was found on John's wallet and the knife. The alley is a dead end and no one else was seen.
Jem insists that he ran after John to return the wallet he had dropped, and that he heard an argument between the cop and a woman on the phone.
Hannah tells herself that Jem's claims are desperate and outlandish. He knows that only Hannah can set him free, if she can find evidence that he's innocent. Those niggling doubts about what John had been up to in the hours before he died escalate. Records show John made no call on his mobile. What was he doing with a possible burner phone in the alley? Why did he lie about where he was?
As Hannah searches John's effects for clues and follows up leads, she realises there was a secret side to her husband – was he a bent cop or cheating on her? Does this make Jem's claim more likely and can she trust her prisoner?
Hannah has support from her friend Aisling and two of John's old colleagues, Rupert and Mickey, and she's loath to tell them all that she has discovered about John. She's been briefed about the dangers of allowing the prisoner to get inside her head, but she can't deny that a bond is growing between them. Relationships with prisoners are forbidden and those hosts that are caught are handed long prison sentences.
As Hannah investigates the murder both she and her friend Aisling are dodging danger. The story is told mainly from Hannah's point of view, but short chapters from Jem's voice reveal that he's watching her closely and he's on a mission that he's hiding from her. The key to its success lies in his locked up custody bag in Hannah's home and some belongings stashed elsewhere.
We also read of his traumatic childhood and his compulsion to steal. He makes Fagin's pickpockets in Oliver Twist look like amateurs with his dazzling sleight of hand. As Jem says, the interesting thing about watching a magic trick is that you're agreeing to be deceived. And so it is with this intense thriller, which offers illusion in plain sight. It's up to you to see the truth.
Deborah O'Connor has plenty of tricks up her sleeve to keep you turning those pages until the truth is revealed. In a crowded twisty thriller market, The Captive beats most of its rivals hands down. It's the third standalone novel for the TV producer who is now a crime fiction author.
If gripping psychological thrillers with a justice theme and an ill-advised love affair are your bag, try Louise Doughty's Apple Tree Yard.
Zaffre
Print/Kindle/iBook
£12.53
CFL Rating: 5 Stars