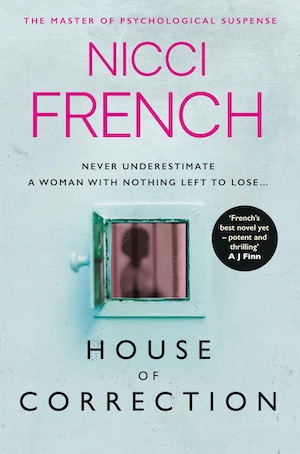 Husband and wife writing team Nicci Gerrard and Sean French are probably best known for their series featuring London-based psychotherapist Frieda Klein, which reached its finale in 2018 with The Day of the Dead. Since then the pair has focussed on standalone crime novels and House of Correction in the latest in that line.
Tabitha Hardy is a solitary sort. She's fond of her own company, swimming in the sea and working on the ramshackle wreck of a house she recently bought in Okeham, the coastal village where she grew up. She left the place years ago and some of the locals are surprised to see her back, but Tabitha keeps herself to herself and gets on with her life. Then, one fateful day, she becomes the centre of attention when the body of her closest neighbour, Stuart Rees, is discovered… wrapped in a plastic sheet and lying at the bottom of her garden!
As we meet Tabitha she is on remand, facing a charge of murder. But she has no memory of killing Stuart and is pretty sure she's innocent. Trouble is, Okeham was cut off on the day in question, a fallen tree blocking the only road in and out of the village, and the more Tabitha puzzles, the fewer people are on her list of possible suspects. Added to this confusion is the fact that her solicitor doesn't seem inclined to believe in her innocence either. What to do?
In a fit of anger, Tabitha fires her lawyer and decides to defend herself in court. Up until this point, she has seemed an unreliable and hard to like character but, clueless, friendless and seemingly hopeless, suddenly she begins to blossom and you may find yourself grudgingly rooting for her.
Because of that lack of empathy at the start, the early part of this book can be hard going, but as Tabitha begins work on her defence the narrative gathers pace and drags the reader along for the ride. Gradually we learn Tabitha's back story and suddenly things aren't so cut and dried. For example, she and the murder victim have history.
The prison scenes are a little predictable (nasty warden, tough governor, violent inmates) but that pales into the background as Tabitha, bit by bit, begins to piece together what actually happened on that fateful day. Her approach is anything but predictable though, and it makes for entertaining reading, although the run up to the trial is perhaps a little long in the context of the book as a whole.
Where House of Correction really comes into its own is in the courtroom section of the story. This is where Tabitha finally has her chance to state her case and she does it with aplomb (and more than a few four-letter words!). Lovers of John Grisham, Steve Cavanagh and the like will really enjoy this vivid, wild and wildly unpredictable depiction of a staid British murder trial which is like no other I've encountered in crime fiction. Time to get comfy and enjoy a ringside seat as the drama unfolds in ways you'd never possibly envisage.
There are moments of brilliance in House of Correction, and early misgivings aside, this David and Goliath story is cleverly plotted and ultimately a satisfying read. Some of the characterisation is a bit two-dimensional, but Tabitha stands out from the crowd and eventually pulls the reader firmly onto her team. Persevere and you'll find this novel is perfect companion as the nights start to draw in.
Enjoy more unpredictable courtroom drama in Steve Cavanagh's Thirteen, reviewed here. The Lying Room is another of Nicci French's standalone works.
Simon & Schuster
Print/Kindle/iBook
£8.99
CFL Rating: 3 Stars