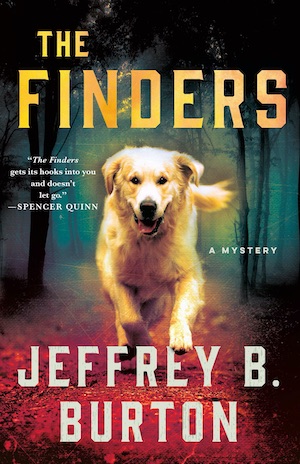 From Rin Tin Tin and Lassie, through to Scooby Doo and Hooch, dogs have certainly played their part in fighting crime over the years. It's time to open the pages of The Finders and meet the latest recruit, a young golden retriever called Elvira, owned by Mace Reid. She's a good girl is Vira, quite content to sit and stay… until something raises her hackles.
Reid is a canine trainer, based in Illinois – some call him a 'dog whisperer' – and besides training dogs for other people he has a freelance gig with the police for his team of human remains detection dogs who, in short, find dead bodies. Music fans will get a kick out of their names. As well as the aforementioned Elvira, who is the newbie of the pack, there are Delta Dawn and Maggie May, sister short haired collies, and a male German Shepherd named Sue!
The opening chapters of this debut by Jeffrey B Burton prove Vira has already had a bowlful of drama in her short life, and after Reid brings her in as replacement for his springer spaniel, who has recently died of renal failure, she repays him with youthful exuberance and searching skills that are second to none. Her training has gone really well, but it's on Vira's first real assignment that things go a little awry.
It all begins in textbook fashion, with the young goldie heading straight to the hidden remains of a missing young woman. Kari Jo Brockman was abducted 14 weeks previously, the latest victim of a serial murderer dubbed the Velvet Choker Killer. Her battered body shows signs of strangulation with a black velvet choker necklace placed over the asphyxiation marks. Vira makes her find in record time, but minutes later she springs into action once again. Her target is a young man in the crowd of gawpers who have gathered near to the crime scene, and she attacks – ripping out his eye in the process.
Now the dog is on death row, but Reid knows she wouldn't have done something so savage without reason and he sets out to save his beloved dog before she is euthanised. What he uncovers is about to change his life forever and turn Reid and his dogs into unwitting targets for a ruthless and deadly opponent.
The Finders is a book with a dual personality. On one hand we have Mace Reid and his characterful canine companions. We learn something about the training given to cadaver dogs and bit by bit get to know more about the man and his motivations. Sounds like enough material for a book right here, really.
But we get two for the price of one as author Burton adds in that second ingredient – a shadowy serial killer who blends into the background, relishing the fact that no one really takes a lot of notice of him. We crime fiction readers have seen all this before, and it's the familiarity of the serial killer angle that, for me, lets The Keepers down a little.
That being said, there's action aplenty, coupled with some well rendered settings, as The Finders briskly moves along. Reid, Vira and the rest of the crew are compelling creations and there's a lot of scope for this series. There's even a hint of a romantic angle with the inclusion of rookie Chicago PD Officer Kippy Gimm, a woman who has some important history with Vira and who seems oblivious to Reid's charms. They're a neat double act and ripe for developing further.
It's great when you sniff out a juicy new series, isn't it? Keep an eye on this one – and don't let it get buried too deep in the to be read list.
Dog loving crime fans will also enjoy Suspect by Robert Crais. Step back into Chicago of a century ago in Curious Toys by Elizabeth Hand.
Minotaur Books
Print/Kindle
£15.06
CFL Rating: 4 Stars