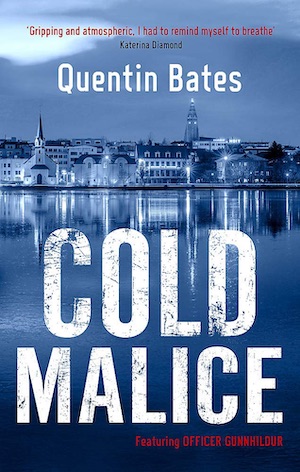 It's been less than two years since we've heard from Officer Gunnhildur Gisladottir of the Serious Crime Unit in Reykjavik. This shouldn't come as a surprise. On average, Quentin Bates has written a novel almost annually since 2011. Considering he also translates Ragnar Jonasson and Lilja Sigurdardottir's books, Bates, much like an Icelandic winter, is a force to be reckoned with, albeit a humble and kind one.
Cold Malice is the seventh in the Gunnhildur series, which began with Frozen Out, and Gunna hasn't lost her straight-shooting, no-nonsense approach to life or solving crimes.
Iceland, particularly Reykjavik, is no longer the quiet backwater location where nothing happens. These days it has a darker, hidden side which outsiders and tourists seldom see. In Cold Malice there are crimes aplenty – identity theft, arson, murder, drugs and tax evasion. The multiple story lines containing these felonies are cleverly linked and intertwined.
From the get-go we are thrown right into a tumultuous event with the 2004 Boxing Day tsunami. A devastating disaster for many turns into a once-in-a-lifetime opportunity for Ingvar Sturlaugsson when he gets the chance to escape from the unhappy marriage he's trapped in. Ingvar takes the chance, fakes his death and builds a new life far away from Iceland, his wife Katla and his three children. Thanks to a well-organised identity theft business Ingvar becomes Erik Petter Tallaksen, a man who will not be missed by anyone.
Within the first dozen pages Bates takes you on a whirlwind trip from Thailand to Iceland, jumping across three time periods spanning 16 years. It's an ambitious start which leaves you perplexed with little to no idea of what's going on. But don't despair, all will be revealed and your persistence will be rewarded.
Meanwhile Gunna is called out to investigate the apparent suicide of a well-known, reclusive Icelandic artist. Askell Hafberg is found hanging from a beam in his barn. During her enquiries she learns of the death of Askell's wife, Birna, by drowning five years earlier. The way the case was handled by Gunna's colleague, Sveinsson, sets off warning bells and prompts further investigation.
If you have read previous books in the series you'll know that Gunna is nothing if not persistent. Here's a woman who has no problem with being offensive when necessary, doesn't mind stepping on toes and whose instincts are rarely wrong. Nonetheless she's respected by her colleagues Helgi, Eiríkur and their boss Ivar Laxdal. Despite her tough exterior her love for her two children, Laufey and Gisli, is evident, and likewise for her partner Steini and Raggi, her husband who was lost at sea.
According to Bates, originally Gunna was supposed to be older, but a younger version was suggested by the publisher. After negotiations a compromise was made and Gunna became a middle-aged woman of indeterminate age of around 40. Seven books later she is close to 50, the age Bates intended her to be at the start of the series. Bates's reasoning for creating an older character is that older people are more interesting and experienced with life stories and to make for a more fascinating character.
Although Gunna remains the star of the series, the other characters in Cold Malice earn the worth of their presence. They are accessible, likable, easy to associate with and above all, fallible humans. We can sympathise with Helgi's frustration with his in-laws and concerns about his wife's latest pregnancy and the financial implications. Even the 'bad' characters can evoke sympathy. After all, aren't the baddies who show a sliver of humanity and potential for goodness more interesting than an outright evil character? Ingvar is supposed to be one of the bad guys, but maybe he just made the wrong choices without considering the repercussions.
After 15 years in self-imposed exile Ingvar returns to Iceland. His wife has remarried, his children are grown and one of them is already doing time in prison for someone else's crime. Ingvar tries to rectify the situation, but it's clear his return to Iceland was a mistake. Especially after Helgi recognises him at the airport.
Not all the ends In Cold Malice are neatly tied, but that would be boring, wouldn't it? Bates prefers it this way and in a recent interview with Dr Noir, Jacky Collins, he admitted to liking a few loose ends dangling otherwise there's nothing to brood over after finishing the novel. Life can't be wrapped up and tied with a perfect pink bow, why should fiction be?
In the same interview Bates mentioned that writing Cold Malice didn't come easily. But then, as Nathaniel Hawthorne apparently said, "Easy reading is damn hard writing." If this is the case Cold Malice will be a success with avid crime readers, new and old alike.
Part of Bates's success lies in his status as Scandibrit author – a term coined by Barry Forshaw which refers to non-Scandinavians who set their books in the Nordic countries. This unique literary advantage allows Bates to write an Iceland-based crime novel in English with insight into the local culture, people and environment whilst demonstrating his comprehensive understanding, knowledge of and love for Iceland.
You can read more about this book series here.
Constable
Print/Kindle/iBook
£8.99
CFL Rating: 4 Stars