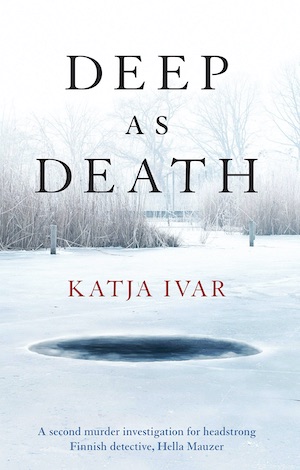 In this second book by Katja Ivar featuring investigator Hella Mauzer, it's February 1953 in Helsinki, Finland, and someone believes that this cold, dark, snowy period is a propitious time to continue a nasty habit of murdering prostitutes. In the region there's no shortage of ice-covered lakes and rivers, full of ice-fishing holes and weak spots where the current flows, places where a misstep can lead to a watery, frozen death.
Former police detective Hella Mauzer was the first-ever woman inspector in the Helsinki Homicide Unit, but she was relieved of her duties after a scandal in which she shot a suspect. Now she plans to make a living as a private investigator.
A potential client – Klara Nylund, who runs a notorious upscale brothel – seeks her out. The body of one of her girls, Nellie, has been found floating in the harbour. Surprisingly, Nylund was referred to Hella by the head of the Helsinki police department, Chief Inspector Jokela. He candidly tells Nylund that there's little official interest in Nellie's death, unsure as they are whether it was the result of a crime at all. More important to Jokela, he has his eyes on the job of the soon-to-retire chief of police. He's not about to involve himself in a murder case that might turn messy. Bureaucrats!
Nylund's job would be a godsend to Hella. She's been hit with a 100,000 markkaa fine, half a year's wages for a police sergeant, in a lawsuit brought by a man she injured defending herself against a sexual attack. That's not her only problem on the home-front. She and her married boyfriend Steven have broken up. It seems he never intends to leave his wife after all.
Most disruptive of all, one night she finds Anita on her doorstep. Anita is young, blonde, and pretty and announces her intention to stay with Hella while she continues her police training course. This is quite a turnaround for Anita, an acquaintance from Ivalo who never seemed to have a serious thought in her head. As far as Hella is concerned, theirs was not the kind of association that would lead to her crash uninvited at Hella's apartment. Anita reassures her with, 'I won't stay long. Only a couple of months.'
That Chief Inspector Jokela recommended Hella to Klara Nylund comes as a surprise to Chief Inspector Mustonen, who narrates about a third of the chapters and provides an inside look at how the police department views Hella and Anita, who works directly for him. At least she's plucky. Without telling anyone, she dresses provocatively and parades near the brothel as bait for the killer. She's inviting an attack and she gets it, though her assailant escapes when Mustonen appears. Anita is charming and occasionally quite perceptive, if always on her own wavelength.
Jokela invites Mustonen to a meeting with a wealthy politician whose spoiled son Ahti was in a minor auto accident. Out of the wreck emerged another one of Klara Nylund's girls, hysterical and hands tied. This would seem to put Ahti front and centre among suspects, but his father maintains Ahti's innocence. Jokela makes it clear Mustonen can't pursue this lead, giving the younger man a first-rank ethical issue.
Hella has her own ethical dilemma when Klara Nylund, the madam, turns up dead. Hella finds the book recording the brothel's clients and, in it a reference to someone who can only be her former boyfriend, Steve.
On Hella's side is the medical examiner, the dubious support of Anita, and her friends in Lapland who long for her to return north. Against her are arrayed the official police, the duplicitous Steve, and now, the women who worked for Nylund whose mouths are shut tight as oyster shells. And, always, the ice.
It's an enjoyable read, and Ivar's writing moves along briskly. Unless I missed it, the issue of the massive fine is never resolved. The judgment was a significant problem for Hella because she has no way to pay it. The characters' attitudes about the affair with a married man and Hella's open acceptance of the gay medical examiner seem more 1990s than 1950s, but Finland may have been a more liberal country than most. A third book in the Hella Mauzer Mystery Series is expected and definitely one to watch for.
More chilling books with chilly setting are Nick Petrie's The Wild One and these leading Nordic Noir thrillers from 2018.
Bitter Lemon Press
Print/Kindle/iBook
£5.33
CFL Rating: 4 Stars