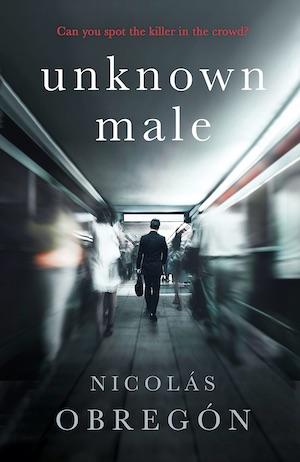 Written by Nicholás Obregón — Unknown Male is the third in the Inspector Iwata series which began in 2017 with Blue Light Yokahama. The series was conceived by Obregón while he was travelling on a bullet train from Hiroshima to Kyoto, and, like the earlier novels, Unknown Male offers an interesting change of scenery for Western readers – and a top-end mystery too.
After living in Los Angeles, Inspector Kosuke Iwata returns to Japan to investigate the murder of an English exchange student in one of Tokyo's dubious love hotels. After previously exposing corruption in the Tokyo Metropolitan Police Shibuya HQ, his return isn't a welcome one and he is treated like an outsider in his old hometown. We instantly sympathise with the character, even more so when we learn of his backstory and how he solved the Black Sun Killer case.
With the 2020 Olympics just around the corner, the killing of a foreigner couldn't have come at a worse time. Tokyo's claim to be the world's safest city won't withstand the embarrassment of a murder so the case needs to be tied up quickly and tightly. Police have already been trying to cover up a series of murders in the Kabukicho district, where sex workers were the targets.
However, the murder of Skye Mackintosh took place in San'ya – another place that you don't find on maps or in tourist brochures. Once home to packers, tanners and undertakers, it is now infamous for agitators, drinkers, prostitutes and political extremists and is an area avoided at all cost by most locals. So how did the 22-year-old student end up in Starlet, a San'ya love hotel, just 11 kilometres from the stadium where the Olympics will take place? The pressure is on Iwata to find out.
Anthea Lynch of the London Metropolitan Police is dispatched to Tokyo to assist him in the investigation – officially as a PR exercise to support Skye's family, unofficially as punishment for previous behaviour. But as fast as Lynch and Iwata try to gather up the loose ends, the case throws up more leads and connections.
Obregón conjures up one of the most despicable, revolting serial killers wrapped in an inconspicuous package – a middle-aged, married, family man of medium build with neatly cropped hair and an impeccable dress-sense. In spite of his apparent normality, he is slowly revealed to be a nightmarish character who collects and numbers women like objects, keeping them in a shack on a small island, while being taunted by the voice of his demanding, judgemental dead father. Mr Sato, the Grey Man, will make your skin crawl and if this level of gruesomeness unsettles you, be warned!
That said, Unknown Male works exceptionally well on multiple levels. Firstly, it entertains with a dark crime story and plenty of twists and turns. Secondly, it meticulously describes the urban setting where the crimes take place in beautiful, almost poetic, detail. Lastly, it delves into characters' back stories. In particular, Iwata's family history stands out and his attempt to track down his absent father serves as a second storyline and reveals more about the troubled and flawed man than any of his actions as a police officer.
This is a rich and textured crime thriller, arriving at a time when the popularity of Japan as a crime setting is on the rise, and with the Olympics just around the corner. In a 2017 Guardian article, Obregón referred to Tokyo as his 'spiritual homeland' and Unknown Male is an ode to its uniqueness and complicated beauty.
See also our top six crime novels written by Japanese authors here.
Michael Joseph
Print/Kindle/iBook
£9.99
CFL Rating: 4 Stars