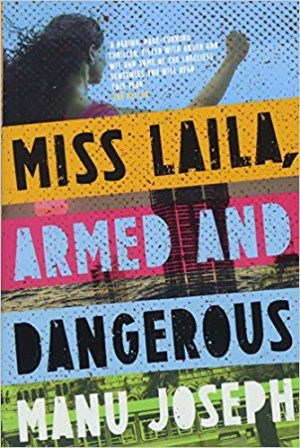 Written by Manu Joseph — In Mumbai, the collapse of an apartment building traps a lone survivor, a man filled with regrets, in Manu Joseph's new political thriller, Miss Laila, Armed and Dangerous. Rescue workers can almost reach him but the space around him is too small and it's up to Akhila Iyer, one of the building's other residents, who was out jogging when the building came down, to fit her small body into the confined space and try to save him.
The building collapse coincides with the election victory of an extremely conservative Hindu nationalist party. The influence of politics on the characters in the past and in the current emergency is never far away.
Author Joseph is known for his biting political satires and the reading pleasure of this book is enhanced by his sly observations about the state of Indian politics (and nationalist politicians in general, perhaps) and an exploration of the consequences of Indian anti-Muslim sentiment. These attitudes crop up in numerous references to the country's differential population growth rates.
Akhila discovers the unknown man alive and mumbling. When she can at last make out his words, it turns out he's talking about a threat, about two people headed somewhere to carry out a terror attack. The intelligence forces see the need for drastic preventive action but no-one knows the who, when and where of situation. Will they overreact like they have in the past?
Nevertheless, this bit of news energises the rescue attempts and much effort is made to extract the man and, failing that, to learn more about the would-be perpetrators and their target.
Akhila has an interesting backstory. A medical student, she has involved herself in any number of high-profile political pranks, not appreciated by the powers-that-be. "Her victims are rich Marxists, socialists, environmentalists, actually anyone in this country who eats salad; also agitators against large dams; foes of genetically modified organisms; summer interns from Columbia School of Journalism who wish to liberate Tibet." In short, she's a troublemaker and an amusing one. Not knowing this history, the rescue team of soldiers latch onto her background in medicine and believe she's the ideal person to make contact with the trapped victim.
You learn eventually that he is an intelligence agent named Mukhundan, and was involved in the ambush and murder of a pair of suspected terrorists some years before. His thoughts and memories focus on an assignment to follow a supposed Muslim terrorist and his accomplice, the Miss Laila of the title.
He learns that Laila is a university science student, greatly admired by all who know her, especially her younger sister, and conscientiously runs her household after the death of her father. She says that poor people like them "…should learn to love science because science is more equal and fair than arts." It's a sentiment that turns out to be misguided. Because the family needs money, she's set on attending business school. The constraints of poverty are visible everywhere.
Joseph's character descriptions are strong throughout, making it easy to appreciate where the characters are coming from – their strengths, weaknesses, motivations, and eccentricities – as well as the stresses of living in a culturally and religiously polarised society. He makes strong points about that situation, but isn't delivering a lecture. He lets the story make his case. And, despite the political underpinnings, Miss Laila, Armed and Dangerous is also a compelling crime thriller. Past and present mingle to create a fascinating story for today.
Joseph is a literary author who has won several awards for his previous two novels and is a former columnist for the International New York Times.
Strong contemporary crime fiction coming out of India includes the short story collection Mumbai Noir, edited by Altaf Tyrewala, as well as Vaseem Khan's lighthearted Baby Ganesh series, with Murder at the Grand Raj Palace a recent addition.
Myriad Editions
Print, Kindle, iBooks
£5.69
CFL Rating: 5 Stars