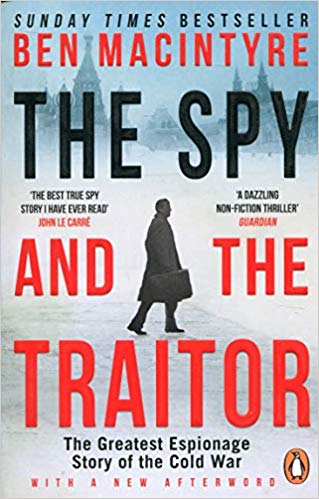 Written by Ben Macintyre — A pal of espionage master John Le Carré, Ben Macintyre just about mirrors the novelist's gift for writing compelling characters and page-turning narrative to the nonfiction realm. This book, subtitled The Greatest Espionage Story of the Cold War, is based on the defection of KGB operative Oleg Gordievsky, and it provides at least as many thrills as a great spy novel.
Raised in a household where working for the KGB was the family business, Gordievsky becomes disenchanted with the hypocrisy in the Soviet Union. Posted to Denmark in 1968, he has a tantalising taste of what life is like when lived outside a surveillance society. A British MI6 agent, working in Copenhagen under classic diplomatic cover, notices him and several modest bits of outreach are made by the two of them, but nothing comes of it. Gordievsky, however, sees his future and when he returns to the Soviet Union, he works at becoming accepted into the KGB's English-language training program. Finally, he succeeds. After a few years, he's posted to London.
In 1973, the connection is made and over at least a dozen years he secretly works for MI6.
Though you may not have heard of Gordievsky, the intelligence he provides and particularly his insights into the Soviet mindset are pivotal in the late Cold War era. For example, he gives significant background for Margaret Thatcher's meetings with various Soviet leaders. His advice helps her craft proposals they can accept. It's vital and thrilling diplomacy, all accomplished well out of public view.
I especially enjoyed that fact that along Gordievsky's twisting path, Macintyre drops intriguing nuggets of tradecraft. That level of detail is just one feature inspiring confidence in the narration and investment in the protagonist's fate.
Throughout his years spying for Britain, Gordievsky is, of course, acutely aware of Soviet paranoia and the KGB's mission to plug leaks and eliminate traitors. MI6 is so protective of him, they do not even reveal his identity to the Americans. Good thing, too, because the head of counterintelligence in the CIA at the time – Aldrich Ames – is himself a double agent. He may covet Gordievsky's identity more than anyone else's. Eventually, Ames betrays some 25 Western spies inside Soviet intelligence, effectively signing their death warrants. He rats them out to make sure the CIA doesn't learn about his own treachery. "It wasn't personal," he says. "It was simply how the game was played." Why did he turn coat in the first place? He wanted the money.
When Ames finally does learn who MI6's superspy is, he wastes no time passing Gordievsky's name to the KGB. However, the MI6 operatives working with Gordievsky have taken precautions. They know that every so often Gordievsky and his family will have to return to the Soviet Union for a period of time. This is part of the normal rotation to keep personnel from becoming too attached to their place of posting. Knowing he might come under suspicion while inside the Iron Curtain, MI6 prepares an elaborate escape plan. They propose to extricate him from the Soviet Union through Finland to safety in Norway. No one is truly confident this plan can work, least of all Gordievsky. It contains too many moving parts and opportunities for derailment. A breakdown at any point will be disastrous.
But once Ames fingers him, they must give it a try, and the whole episode is a real nail-biter. There are photos of the principals, which are helpful, and maps illustrating the escape route and signaling protocol.
Recently, Macintyre's book won of the 2019 Gold Dagger for nonfiction, an award sponsored by the UK Crime Writers' Association. John Le Carré calls it, "The best true spy story I have ever read."
Fictional spies star in Andreas Norman's The Silent War and Joe Country, the most recent entry in the popular series by Mick Herron.
Penguin
Print/Kindle/iBook
£4.99
CFL Rating: 5 Stars