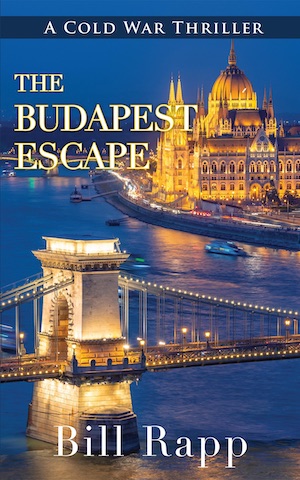 Written by Bill Rapp — Former diplomat and US Government analyst Bill Rapp has brought his wealth of experience and research skills to bear in The Budapest Escape, third in a series of Cold War thrillers. The novel is set in Vienna and Budapest in 1956 when Hungary experience a revolution, the first major reaction against Soviet rule and one that was quickly quashed when Stalin's tanks rolled into Budapest.
Karl Baier is the deputy chief of station for the CIA in Vienna, running agents behind the Iron Curtain through an Austrian border crossing he set up with the help of a Soviet official who was more dedicated to money than socialism. Baier smuggles refugees into Austria from the East and resettles them with the help of his wife, Sabine. But humanitarianism isn't what's driving Baier. He's after information, and his best information comes from an asset by the name of Josef Kovacs, codename Bluebird.
Kovacs is a Hungarian patriot and loyal communist who agonises over the way his country has changed. He's employed in the AVO, or State Protection Authority, the Hungarian version of the KGB. Baier's dilemma comes when Kovacs doesn't show up for a meeting, sending another in his place with a cryptic message saying "Josef needs you now" and "things are getting desperate over there." With the British Intelligence Services fighting their own losing battle to retain control of the Suez Canal, he decides to travel to Budapest without support, in direct contravention of his orders from Washington.
Those with an interest in this fascinating period of history will find the background Rapp provides intriguing. The historical detail is dense, revealed chiefly through conversations Baier has with other analysts and with Kovacs. The dialogue doesn't always sound natural, for instance this particular exchange, which feels shoehorned in:
Kovacs shook his head "He met with Andropov twice today…"
"The Soviet Ambassador?"
"Yes."
Conversations such as this are awkward, but useful for most readers who wouldn't know much about the minor figures in the Eastern Bloc at that time. Rapp clearly has a feel for the world of espionage, which is a product of his wealth of experience. Espionage novels often take one of two paths, they either shine a light on the methodical drudgery of espionage work, a la John le Carre, or paint a picture of a world where spies jump out of planes and sleep with armies of women, like Ian Fleming's James Bond novels. Escape to Budapest is closer to the work of British spymaster Eric Ambler, whose books are more straightforward than le Carre's and feel more realistic than Fleming's.
Rapp's sense of realism slips occasionally, as when Baier manages to stroll unnoticed through occupied Budapest, stumble to the parliament and observe from a safe distance while the Hungarian Deputy Prime Minister surrenders the government, and then makes it back to safety without anyone bothering him. The sense that Baier is an untouched outsider in the revolution does not last long, and he is quickly swept up in a game of double-crossing and international intrigue. Despite the occasionally clunky dialogue, the building tension and the ending is enough to satisfy any die hard spy-fan.
For more espionage check out The Spy and the Traitor. For more crime fiction set in Budapest check out Budapest Noir.
Coffeetown Press
Print
$13.89
CFL Rating: 3 Stars