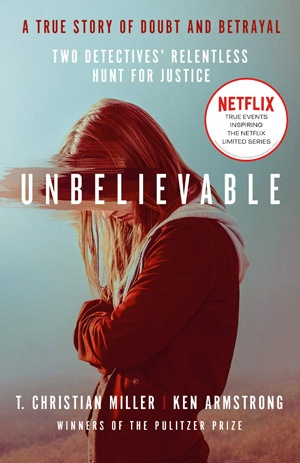 Written by T Christian Miller and Ken Armstrong — This timely true crime book expands on the authors' article An Unbelievable Story of Rape, which won a 2016 Pulitzer Prize. With as much tension and drama as any fictional police procedural, the book describes the many complications that police departments encounter in investigating crimes of rape.
On 13 September, Netflix will begin showing an eight-part mini-series based on the story starring Toni Collette, Merritt Wever and Kaitlyn Dever.
Marie is an 18-year-old product of the American foster care system, living in her own apartment in Lynnwood, Washington, near Seattle. She has a support system. She's enrolled in a programme called Project Ladder, which helps young adults who have aged out of foster care acquire the skills necessary to move into adulthood. She's in close contact with two recent foster mothers. She has friends. Yet, when she makes an allegation of rape that the police begin to question, her support system simply dissolves.
It starts with a call to police in the early morning hours of 11 August 2008, and the apparatus of modern crime investigation cranks into operation. Marie has endured a terrible ordeal that she's asked to recount over and over to the police on the scene, the hospital personnel, her family and again to the detectives. With difficulty, she tells them how, over a period of hours, a man with a weapon tied her wrists, raped her multiple times, took pictures, made her pose in certain ways wearing certain garments. And before he left her apartment, he made her take a hot shower – to eliminate his DNA, apparently – and snatched up some of her bedding.
Marie's foster mom Peggy, in a bit of candor she would subsequently regret, feels she should let police know that Marie can be a bit overdramatic and attention-seeking. From that moment forward, everything Marie has said and does goes under the microscope. Every inconsistency is flagged – despite the fact that she's gone through a traumatic ordeal – as is every instance where her demeanour isn't quite what the police assume it should be. They aren't bad people; they're frustrated and unsure. Her confidence shaken by relentless accusations that she's lying, Marie recants.
A few days later, she reinstates her claim of rape, and the Lynnwood police file charges against her. They throw away the rape kit and the evidence they'd collected, and when Marie's other foster mother tells them about a similar rape in a nearby community, they don't follow up. Marie the victim has become Marie the perpetrator of a false report.
Two-and-a-half years later, police in Golden, Colorado, a Denver suburb, receive the report of a rape, and the case is handled totally differently. Although investigators can't immediately identify the rapist, they coordinate with other nearby departments when similar cases occur. Together, they gradually assemble the scattered clues that enable them to identify the serial rapist. In his house they find a flash drive with all the pictures he took of his victims as he raped them. Among them, pictures of Marie.
The Lynnwood officers who handled Marie's case man up and fly to Denver to meet the Colorado team, despite how painful it is to expose the serious mistakes and professional lapses that occurred in her case. Then they do what they can to make it right.
What makes this book so powerful, in addition to the frightening stories of the victims and the vigorous pursuit of their cases by the Colorado officers (a number of whom were women, as it happens), is the broader social dynamic it explores. The readiness to assume a woman is lying about rape is long-standing. It's one of the main reason so many victims never come forward. Perhaps the mini-series will show some of them that it is possible to receive fair treatment.
The Denver prosecutor knew he had to backstop his case in expectation that jurors would also make unfounded assumptions. They might wonder why the women didn't yell and scream, why they didn't fight, why they didn't run. In short, doubt afflicts a rape case at every stage. And has for at least 400 years of jurisprudence.
Despite all that's been written about assaults on women and the issues involved in rape, the practice of taking it lightly remains all too common. On this point, Miller and Armstrong provide numerous examples to show that Marie's experience was far from unusual. But they also demonstrate improvements in handling rape cases. Although not universally adopted, they represent progress. This compelling book (and the television series) based on real-life events can help spread the message of how vital such improvements are.
We don't cover a lot of true crime on Crime Fiction Lover, but here are some books and shows in the true crime category, or inspired by true crime.
Windmill Books
Print/Kindle/iBook
£8.99
CFL Rating: 5 Stars