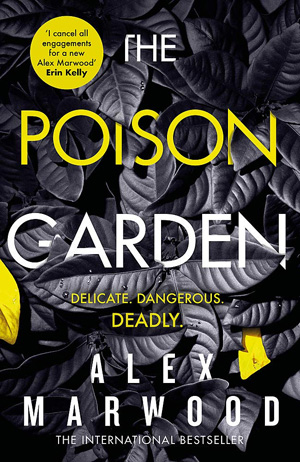 Written by Alex Marwood — Earlier this year I read MW Craven's Black Summer and marvelled at the brilliance of its first chapter. Alex Marwood must have been at the same training session, because The Poison Garden also opens in spectacular fashion.
PC Nita Bevan is on patrol with her partner, PC Martin Coles, when they're called to an out of the way spot called Plas Golau, near Dolgellau in Wales. A local farmer thinks there's something suspicious going on at the enclosed community. As Nita, soon discovers, he's absolutely right. Inside the walls of Plas Golau is a scene that neither she nor we readers are ever likely to forget, a sea of bloated bodies of all ages.
It's almost as if a light comes on as we leave behind the haunting, horrific scene and move on to September 2016, where the sole adult survivor of the mass killing is struggling to assimilate herself in a world that feels so completely alien. Romy is 20 and has been at Plas Golau since she was a baby, so she has no experience of modern living. She's currently in a halfway house after spending some time in a facility for the mentally ill, gradually adapting to living among 'the Dead', as the Plas Golau dwellers referred to the outside world.
Outwardly, Romy seems to be making steps towards what we might call normality, but inside she misses the people of the Ark. It was a place where she felt safe and useful, ruled by a patriarchal figure called Lucien, who everyone referred to as 'Father'. She lived there with her mother and two half siblings. Romy is nursing many secrets, not least of them the fact that she is pregnant.
Those half siblings have an important part to play in this multi-layered and twisted narrative. Eden, aged 15, and Ilo, who is 13 are alive too, and when the authorities find a living relative for them – their aunt Sarah – it looks as if there is about to be a happy conclusion to their woes.
Sarah is 31, divorced, and lives reluctantly in the old family home in Finbrough, near Newbury, which she inherited on the death of her parents. The house holds no good memories for Sarah, whose sister Alison rebelled against their parents' religious beliefs and disappeared when Sarah was just 10. They were leading lights in the Finbrough Congregation, a religious group who believed Jesus would one day come back to Earth and live in the dark and depressing property which Sarah now inhabits. How can she bring two impressionable teenagers there?
So, two distinct stories with some oddly similar strands as Marwood leads us on an exploration of belief, delusion and herd mentality. Are the followers of the Ark at Plas Golau any more off their trollies than those who joined the Finbrough Congregation? I suggest you read on and decide for yourself.
I reviewed The Wicked Girls way back in 2013 and it remains one of my favourite crime fiction reads. This author has a nifty way of capturing the essence of current headline-making trends and harnessing it into a first-rate psychological thriller. We're never quite sure of warrior-queen-cum-earth-mother Romy, her motivations and thought processes, and because of that unease, Marwood keeps us on tenterhooks throughout. Even solid, staid Sarah has the capacity to shock, and the story arc allocated to Eden and Ilo is on a par with any Brothers Grimm fairy tale.
The Poison Garden is a cleverly-wrought evocation of the world we live in today, with all its faults and foibles. The subject matter could have made for depressingly dark reading, but instead we are offered moments of light and even a chink or two of hope. This is a haunting book by an author who is always happy to plough her own furrow. Long may it continue!
Sphere
Print/Kindle/iBook
£3.99
CFL Rating: 5 Stars