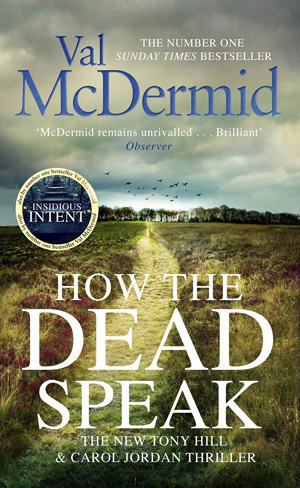 Written by Val McDermid — The next in a popular crime series is usually welcomed by readers. It's almost like having a catch up with an old buddy, isn't it? But have you ever given a thought to how the writer feel about carrying on a series book after book? Do they sit down on day one, open a new file, a secretive, slightly cunning smile on their face, ready for action? Or do they feel a little apprehensive after ending the last book on a tricky twist that has left them with nowhere to go, and a massive headache?
I'm not sure about the apprehensive part, but Val McDermid certainly painted herself into a corner with Insidious Intent, the previous book in the series featuring Carol Jordan and Tony Hill, and we're dealing with the aftermath of those occurrences from the get go in How the Dead Speak.
Carol and Tony are apart. He's in prison, while she is out of the force and becoming a dab hand at woodwork, of all things. So although this is flagged up as a 'Tony Hill and Carol Jordan thriller', it feels as if they've been consigned to separate granny annexes while DI Paula McIntyre gets the run of the main house.
We first meet Paula again on a team building exercise which has been organised by the new boss of ReMIT, the regional major incident team in fictional Bradfield, which was so carefully assembled by Carol Jordan and then almost torn apart. DCI Ian Rutherford is a new broom determined to sweep clean and make his mark while doing so. Although many of the old ReMIT team members are still on board there are some new faces too, including a green as grass new DI, Sophie Valente, fresh to the force after working in retail management.
The team building day is pretty much a bust, so no one is really certain about how things will go when they get their first case. Construction work on the site of a former convent and girls' home on the edge of Bradfield has revealed human remains… lots of them. McIntyre isn't sure it should even be on their radar – after all, the bones are historic and there seems no sign of foul play – but Rutherford sees the headline grabbing possibilities and soon the ReMIT members are sorting through the history of the Order of the Blessed Pearl, its sisters and the many girls and young women who passed through their hands.
Then a second burial site is discovered and the case gains impetus. Young men, shrouded in plastic bags and buried in the vegetable plot of Jezza Martinu, formerly the convent handyman, who bought a cottage in the grounds after the nuns left. Is he a serial killer or just someone being set up for a fall? Although the police have their work cut out to discover the truth, we readers already have the inside track, thanks to telling chapters giving the killer's viewpoint.
The narrative jumps around like a pogoing punk rocker as we leap from killer, to McIntyre, to Tony Hill – in prison and trying to make the best of it – and then Carol Jordan, who's suffering from PTSD and seeking help. She ends up getting involved in a far-fetched strand of the story involving Tony's mother Vanessa and a Ponzi scheme. It's disjointed and a little disappointing.
I really, really wanted to like this book, but the sidelining of the two main characters in plot lines that wouldn't form the basis of even a short story means the central strand has a lot to live up to and it sadly doesn't. Granted, things move along smartly in the ReMIT case and this part of the book promises great things, but somehow never manages to ignite. Perhaps it's all down to keeping Carol and Tony apart – and the problem is, there's no easy way of fixing that one, is there?
Mysterious skeletons also feature in Luca Veste's The Bone Keeper. Nuns are at the heart of Jo Spain's With Our Blessing.
Little, Brown
Print/Kindle/iBook
£10.99
CFL Rating: 3 Stars