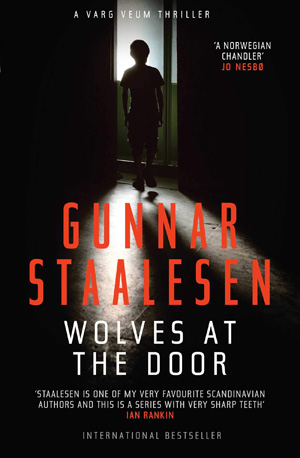 Written by Gunnar Staalesen, translated by Don Bartlett —Considered to be the godfather of Nordic noir, Gunnar Staalasen is an icon in Norway, so much so that his literary creation, PI Varg Veum, is immortalised as a statue in the centre of his native city of Bergen.
Staalesen has been treating his fans to the exploits of Varg Veum for over 40 years now. Key to the detective's appeal is his tenacity in solving a case. Murderous goons, exasperated local police and unwilling interviewees don't deter him from knocking on doors until he gets answers. One thing's for sure, money is not his prime motivator, as he barely makes a living as a private investigator. In Wolves at the Door, there is no paycheque at all, only the hope of doing the right thing. When we catch up with Veum, he has escaped prosecution after being framed for involvement in a paedophilia ring, and is trying to nurture his relationship with his new partner Solvi.
The shock waves of the paedophilia drama are still reverberating. Veum notices that members of the ring are dying in succession and under suspicious circumstances. To him, the guilty men's deaths are starting to smell a lot like murder, which could mean the perpetrator is a victim acting as vigilante or another member of the criminal ring trying to cover their tracks. But the most immediate question which opens the book is: who has just tried to run Veum over with a car?
Early on you feel a creeping tension and the sense that crime continues to thrive. This escalates as our protagonist visits each paedophile's destroyed family in turn. His past experience as a social worker confirms how victims of incest continue to suffer from crimes of the past, some turning to drug use or perpetuating the crime as abusers themselves. Through various interviews, we see the compassion which fuels Veum's determination and which lies at the heart of his self-commissioned investigation.
To his dismay, it seems the broken paedophile ring was just the tip of the iceberg, as Veum's investigation at one point hones in on a refugee orphanage that has become a human trafficking portal. As he keeps tabs on these and several other inquiries, it becomes a bit challenging for the reader to follow suit, and at times the plot weave feels a bit overcomplicated.
Veum still can't determine if the murderer is a victim turned vigilante or if the deaths and attempt on his life were organised by the criminal network he seeks to expose. A sleazy loan shark menaces one of the drug-addled victims and her self-deputised protector Veum. Meanwhile, Solvi and her daughter are also threatened by mysterious phone calls and then an attempted hit and run, putting pressure on Veum to both solve the case and salvage his strained relationship with Solvi.
With an expositional style that is all but invisible, Staalesen masterfully compels us from the first pages. We follow Veum and his relentless yet thankless endeavours to whatever dark corner they may lead, buoyed by the sardonic PI's dry humour and wry characterisations of all manner of humanity he encounters. Told in first person, we see the world through Veum's eyes, but you'll have to keep guessing who the culprit is. The detective keeps his cards close to his chest for purposes of suspense, but he is generous with his observations of the town folk, their dialects and the transformation of Norway's historical urban landscape. You can see why Jo Nesbo calls Staalesen a Norwegian Chandler.
Veum learns that the one thing all of the murdered paedophiles have in common is that hours before their deaths an unidentified pastor came calling. His search for this man of the cloth extends as far as Berlin, but back home some dark doings continue in the family of one of the dead paedophiles, and what Veum stumbles across by accident is as horrific as anything he's ever encountered. As always, the uninvited Veum is one step ahead of the police and he insinuates himself into a very dangerous unfolding drama that puts his life into danger. The ensuing confrontation between him and the unmasked killer is high drama at its best and the chaos he causes for the weary local police is one of the defining comic attributes of this great series.
If you're a fan of Varg Veum, this is not to be missed, and if you're new to the series, this is one of the best ones. You're encouraged to jump right in, even if the Norwegian names can be a bit confusing to follow.
For Norwegian crime fiction with a different tone, try Karin Fossum's Inspector Sejer series. Also see our top Nordic noir novels of 2018.
Print/Kindle/iBook
Orenda Books
£4.31
CFL Rating: 4 Stars