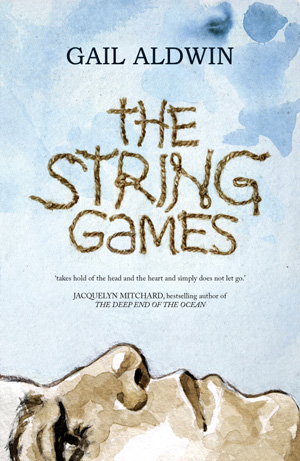 Written by Gail Aldwin — This debut is a book that welcomes you in from the start. It has an easygoing, colloquial style that leaves you feeling like you've just met an old friend for a coffee and a catch up. Say hello to The String Games.
Inside its pages you'll meet 10-year-old Imogen, who goes by the nickname of Nim, her four-year-old brother Josh and their mother, Jenny. They're on a camping holiday with mum's friend Dee and her young daughter Ella and it's an idyllic time, with endless sunshine and adventure – and a first kiss for Nim, courtesy of local boy Maxime. Then everything changes when Josh disappears, never to be seen again…
We move on five years, and Nim is a teenager at secondary school. She and her mum just about tolerate each other and she enjoys weekends spent with her dad in his flat. The spectre of Josh haunts everything she does. Very few of her school contemporaries even know of her bother's existence and Nim has become a loner with few real friends. Then she's moved into a different maths set and is paired up with Michaela. Nim's new pal is something of a rebel and she is swept along in the excitement of trying a little rebelliousness for size. That decision is about to lead to disaster.
A further eight years on, and Nim is now known by her birth name. Imogen is heading for a breakdown, and when she suffers a panic attack in the middle of a busy London park, she decides the time has come to face up to her ghosts and find out exactly what happened to her little brother, all those year ago. She takes sick leave from work and sets off to Rodez in the hope of finding some answers – but is she prepared for past memories coming back to bite her?
The String Games isn't really a crime novel, rather it's an 'on the periphery of a crime' novel and it paints a vivid picture of how a dastardly act can so powerfully affect the people who are left behind. It's a great example of a coming of age book, with Nim at the heart of everything. She has never forgiven herself for letting her brother out of her sight, but in reality every member of the family group that day holds some responsibility for Josh's fate.
This is a beautifully written book, in a style which reminds me of the similarly deep-rooted works of Louise Beech, and in particular her recent release, Call Me Star Girl. Both have the fraught relationship between a mother and her daughter at their heart, and in both novels the actual crime is somewhat sidelined as the author concentrates upon the minutiae of life.
Some of that detail makes it slow going, nevertheless, a sense of little lost Josh runs through The String Games like one of the pieces of cord with which Nim is so fond of playing. Just like a cat's cradle – one of the string games she so loves to play – at times the narrative seems to be in an impossible tangle. Then, like magic, a few nimble moves by author Gail Aldwin and we see things in a completely different way.
Don't pick up this book if you are a fan of thrill-a-minute, fast-moving, action-packed, twisty-turny crime fiction. The String Games is none of these things; instead, it is a thoughtful, slow paced, intricately plotted read by an author who shows a great deal of promise. Stick with it for the long-haul and you might be surprised!
Another unresolved loss drives Jenny Quintana's The Missing Girl, while 13 Minutes by Sarah Pinborough is chock-full of teenage angst.
Victorina Press
Print/Kindle
£10
CFL Rating: 3 Stars