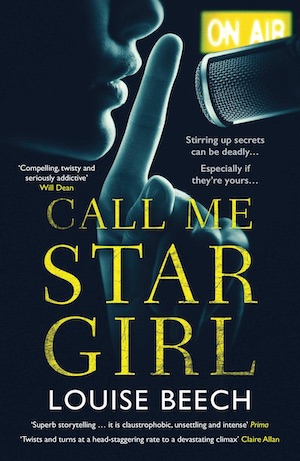 Written by Louise Beech — We last reviewed Louise Beech with her standalone Maria in the Moon. She's an author with a unique voice, whose lyrical prose can easily lull you into false sense of security.
Her subject matter may range far and wide, but Beech seems to feel most comfortable in a setting she knows well, the north eastern coastal city of Kingston upon Hull. It's where we meet Stella McKeever, a late night DJ on a community radio station. Tonight is Stella's final night on air and she's determined to make it memorable.
As she cues up the tunes and chats to her listeners, we begin to start piecing together a picture of Stella. She's something of a free spirit, a woman whose turbulent past is still echoing into the present day. For her final radio show she's chosen the subject of secrets, much to the consternation of the station manager. Stephen wants her to tone things down but Stella ignores his pleas. She wants to go out with a bang.
It's just a few weeks since a heavily pregnant woman was murdered in an alleyway a short distance from the studio. Victoria Valbon had her throat slashed before being abandoned by her killer, covered only by her red coat. It's a crime that has galvanised the people of Hull and beyond and Twitter is all a-twitter with rumours and speculation about the unknown culprit. In a plot strand reminiscent of Play Misty For Me, Stella even has a caller who maintains he knows who committed the crime, though she dismisses him as a crank and fantasist.
The Man Who Knows, as Stella secretly calls him, is adamant he is telling the truth and claims to have pictures to prove it. Stella calls his bluff – is she making a huge mistake?
The majority of this tale is told within the confines of the radio station, but as the timeline sweeps back and forth we begin to discover something more of Stella and her life outside of work. She has a live-in boyfriend called Tom, a man who likes to play games, many of them sexual, some of them downright dangerous. Then there's Stella's mother, Elizabeth, who abandoned her 12-year-old daughter to resume her relationship with the love of her life, a shadowy figure who is Stella's father but doesn't know it. Elizabeth has recently reappeared in Stella's life and the relationship between the pair is an uneasy one, with both women seeming unsure as to how to proceed now they've been reunited.
The dynamics of the relationships between this trio are complicated, and in truth I didn't find any of them very engaging or likeable. Coupled with the ponderous pace of the early part of Call Me Star Girl, I found myself losing connection with this book and letting my mind wander to other things. Then Beech steps thing up a notch or two and suddenly you're dragged right into the heart of the action with some unforeseen manoeuvres that come straight out of left field.
I love this author's writing style. She has a lovely way of conjuring up a scene in a beautifully constructed paragraph or two. Her sense of place is strong and her dialogue is spot on. That said, Call Me Star Girl just didn't hit the mark with me – the build-up is too slow and the final, decisive chapters appear a little rushed. Still, a book worth exploring, particularly if you like your psychological thrillers on the darker side.
For more Hull-based crime, try the books of David Mark, interviewed here. Another complicated mother/daughter relationship is explored in Jessica Barry's Freefall.
Orenda Books
Print/Kindle/iBook
£3.79
CFL Rating: 3 Stars