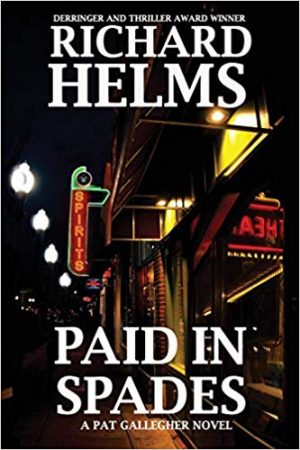 Written by Richard Helms — In this fast-paced crime thriller, award-winning author Richard Helms guides you to the darker corners of New Orleans where the extravagant pleasures of the food, culture and music can turn deadly at any moment.
Pat Gallegher has what can most delicately be called a checkered career. He failed at the seminary, totaled his career as a forensic psychologist, was fired from his work as a college professor. Now he makes just enough money to get by playing his cornet in Holliday's, a seedy French Quarter watering hole. A gambling addiction caused many of his more recent troubles, but a 12-step program has helped him reclaim his present life and leads to his current dilemmas, which the book's opening line foreshadows: "One thing about being in a recovery program, you meet the most interesting people."
One of those interesting people is Cabby Jacks, whose background is anything but the privileged one Gallegher squandered. Cabby got him started in Gamblers Anonymous and insisted he take it seriously. Now Gallegher believes part of his recovery depends on righting the balance in his life by doing what he terms favours. He has a particular skill in finding people and things that are lost, even when the cops can't.
So when Cabby Jacks shows up at Holliday's intimating he's involved in something shady, and asks a favour, Gallegher can't say no. As Cabby explains it, the favour – accompanied by an undated thousand-dollar cheque – is, "I want you to find me."
Time passes and you see Gallegher's uneasy relationship with the New Orleans Police Department. Trouble finds him too easily, Detective Farley believes, though their interactions show Farley gives Gallegher grudging respect. The detective even warns him about rumours he's offended some local gangsters and advises him to keep a low profile. Gallegher also has a prickly history with Chester Boulware, from the Department of Justice's Organized Crime Division.
Those rocky relationships are balanced by excellent interactions with his woman friend, Merlie, with the bar's owner, Shorty, and with the other musicians, including 20-something Chick Kasay, a jazz guitarist brought in as temporary replacement for an older player who's out sick. The dialog in Gallegher's interactions with friend and foe  is full of sly humour, not always appreciated, but sparkling throughout.
Merlie also needs a favour. She runs a shelter for teenage runaways, throwaways and other destitute children, as Gallegher puts it. One of her charges needs surgery, but the dad needs to sign the consent and no one can find him. Then a friend of Cabby Jacks visits Gallegher to tell him Cabby's gone missing. Two people to look for. Just when he was supposed to lie low. You know he won't.
Tracking down the father leads Gallegher into the swampy wilderness where an oil pipeline is being laid. Something suspicious is taking place there, but what is it? The father left the job site in the middle of the night a few weeks before for parts unknown. He abandoned his personal effects and his expensive weld-checking equipment, but took a notebook he was diligently writing in. The pipeline project will serve a new oil refinery being built by Kenzie Petroleum, owned by mega-wealthy Kellen Kenzie, bane of environmentalists and lobbyists' darling. Just the kind of guy to attract a lot of muscle who won't be happy with all Gallegher's questions.
The hunt for Cabby leads Gallegher to a Brazilian ship docked at the port of New Orleans and the unexpected revelation from Detective Farley that ultra-violent Brazilian gangs are trying for a toe-hold in Louisiana. Smuggling appears to be their game.
Gallegher is not a lone actor here. From Kenzie, he borrows a former Secret Service man now working for a private security firm, he calls on his long-time acquaintance Scat Boudreaux, whom Gallegher believes may be the most dangerous man in America, and the real dark horse of the piece turns out to be Chick Kasay. The guitarist understands more about surveillance and guns than any young musician ought to, and his knowledge persistently surprises Gallegher.
Author Richard Helms has a knack for making all these people vivid and interesting. I could read a whole novel about any of them. The plot comes close to spiraling into unbelievability near the end, but the strength of the writing and the characters keeps it together.
The Big Easy also features in November Road, by Lou Berney and the popular novels of James Lee Burke, including the most recent, Robicheaux: You Know My Name.
Clay Stafford Books
Print/Kindle
£13.01
CFL Rating: 4 Stars