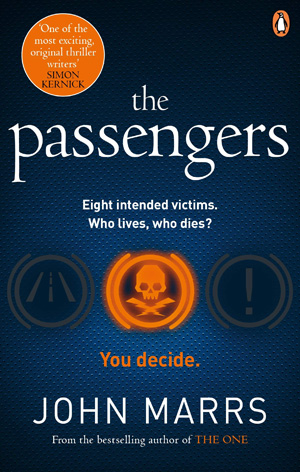 Written by John Marrs — Crime fiction writers are a pretty twisted lot. If they're not creating slap-the-forehead-and-cry-out-in-shock moments, they're happily sitting at home, surveying the world around them and coming up with cunning uses for everyday objects.
Sound familiar, John Marrs? Maybe he got cut up by another driver once too often or lost his rag when a parking attendant slapped a ticket on his windscreen. Whatever the cause, this author has really got it in for four-wheeled weapons of mass destruction.
The Passengers is set some time in the not-too-distant future. Technology is king and the latest government directive is encouraging people to ditch their level one, drive it yourself cars and instead plump for a level five driverless vehicle. The road revolution is in full swing, and there are many tasty incentives in place to ensure that people let go of the wheel and allow artificial intelligence to take control. There are plans in place to ban all manual vehicles within a decade.
As a result, road deaths have dropped dramatically, and the blame for the few fatalities is apportioned at specially convened secret inquests. Libby Dixon has been chosen to sit on one of the juries, and she's not happy about it – with good reason. Two years ago, she was witness to a crash involving an autonomous vehicle. Two woman and a baby died as a result and the scene of carnage haunts Libby to this day. At the inquest into the deaths, the driver was exonerated of any blame.
She was unhappy at that verdict, now Libby must play a part in the process which she so distrusts. We meet her as she's about to begin day two of her jury duty in Birmingham and it's a day she and the other jury members are never likely to forget.
It all begins pretty uneventfully, with Libby the only dissenting voice in a group that's seen it all before. There's a government minister and even a doctor and everyone seems happy to toe the party line – invariably, the person not in an autonomous car is to blame. But as Libby fumes and everyone else gangs up on her, the real drama is unfolding outside the inquest room. One by one, passengers are being chosen for death by a mysterious hacker.
They include a pregnant woman, an elderly war hero, a faded film star and a married couple who are travelling separately, and as they are going about their daily business things suddenly go awry. Car doors lock, windows become opaque and the vehicle sets off on a journey of its own, to who knows where. A disembodied voice tells each in turn that they are going to die, and soon.
Then the hacker speaks to the inquest room and it becomes clear they have an important part to play in all this. Each has to decide who will live and who will die – and suddenly, Libby recognises one of the passengers. Things have just got a whole lot more complicated.
This book is like an amalgam of the film Speed and George Orwell's 1984, with a dash of reality TV thrown in for good measure. It's a strange mixture but somehow it works, pulling you into the drama and then turning things up another unbearable notch or two as each passenger's innermost secrets are revealed and mistakes are punished in dramatic fashion.
Marrs really knows how to ratchet up the tension and The Passengers should come with a side order of fingernail protectors or they'll be bitten to the quick. Libby's a great character and you'll find yourself rooting for her. She's a woman with a conscience and it's certainly put to the test as this drama unfolds.
The Passengers is a book with a brilliant premise. The idea might seem far-fetched at first but really it is all too possible – and that's a scary thought. Don't expect to see much of your bed while you're reading it though, because it's destined to keep you up late at night.
Read our interview with John Marrs here. New technology also bites back in Jeffery Deaver's The Steel Kiss.
Penguin
Print/Kindle/iBook
£1.99
CFL Rating: 5 Stars