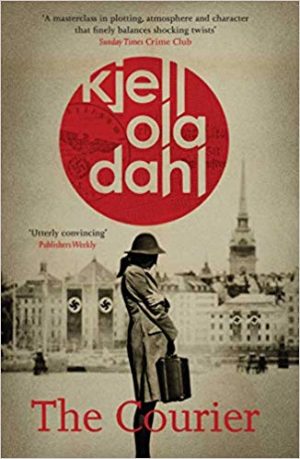 Written by Kjell Ola Dahl, translated by Don Bartlett — Lovers of Scandinavian crime fiction will know Kjell Ola Dahl's police procedurals, which are set in Oslo and feature the detectives Frølich and Gunnarstranda. With English translations of Faithless and The Ice Swimmer coming out over the last couple of years, The Courier is a standalone novel which has a lot of the qualities we love in the Frølich and Gunnarstranda books, but in many ways is completely different.
The Courier is written in present tense, opening in short, declarative sentences, which lengthen out as the scene is set. The time bounces between 1942, 1967 and 2015. 25 years is – or was – the statute of limitation for violent crimes in Norway, so when World War II Resistance fighter Gerhard Falkum returns 25 years after supposedly dying in a fire, those he left behind have questions they want answered. They include Ester, a Jewish courier who narrowly escaped the Gestapo after being caught carrying contraband newspapers, and Turid, the daughter Gerhard abandoned after being accused of murdering his wife Åse. While in hiding in Sweden, Ester and Gerhard had a relationship, which was abruptly ended, supposedly by the fire.
When Gerhard returns in 1967 he seeks out Turid, but both Ester and Turid's adopted parents have questions about his motivation. Where has he been all these years? If he didn't die in the fire, who did? And if he didn't kill Åse, who did? Ester starts digging deeper using her wartime intelligence and survival training as well as her network of Resistance connections to find out the truth about where Gerhard has been and what he has been doing. She is forced to confront both the guilt of fleeing to Sweden while her family were killed at Auschwitz, and the guilt of betraying her friend Åse, who helped her escape.
Another part of the plot happens in 2015, when Turid discovers jewelry that once belonged to her is in an auction house being readied for sale, and seeks to discover how it ended up there. Aside from the dates and locations listed at the beginning of the chapters, there isn't always a clear indication of when the action is happening and who it's happening to, which can make for frustrating reading at times. There are sections where the character described is only referred to as 'her', for example, so it's unclear which generation is being referred to. It all comes together, of course, in the kind of masterful, detailed plotting that Dahl is known for. The events are shocking, but familiar given the number of novels set in and around World War II, but the power of The Courier is how Dahl has given a complex, human face to such an inhuman tragedy.
Like the other Kjell Ola Dahl novels to appear in English, The Courier has been translated by Don Bartlett, and it proves the value of sticking with a good translator. This book is rich in information about the Norwegian Resistance, which requires a fair number of Wikipedia searches if you want to understand the full significance of the historical events, however this never gets in the way of the plot. The main source of excitement comes through the tension between the characters, and the arc it forms over the three periods in which the novel is set.
For more crime involving Nazis check out our recent guide to Philip Kerr's Bernie Gunther Series, and for more Norwegian crime check out our guide to Karin Fossum's Inspector Sejer
Orenda Books
Print/Kindle/iBook
£2.63
CFL Rating: 4 Stars