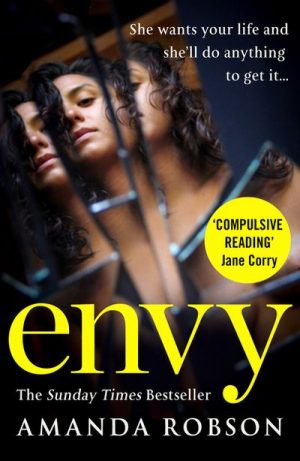 Written by Amanda Robson — Domestic noir gets another fraught outing in Amanda Robson's new tale of destructive obsession set in London. Upwardly mobile young couple Faye and Phillip live in Twickenham with their two daughters. Faye cuts a striking figure, walking her older girl to school and dropping in on the agent who occasionally finds her modeling jobs. She's beautiful, thin, and, to all appearances, has her world well put together.
Those appearances are carefully noted by Erica, a neighbour in a rented flat who is overweight, insecure, and has little going on in her life, except her friendship with the neighbour upstairs, whom she calls Mouse. Before long, Erica's preoccupation with Faye moves beyond watching… she begins following her.
Divided into short chapters, the novel is told from the alternating points of view of Erica, Faye, Faye's husband Phillip, and their architect friend Jonah who's in charge of Faye and Phillip's loft conversion.
Early on, we learn about cracks in Faye's façade when she visits the modeling agency and learns she's been turned down for a job because the client wants someone younger. Her husband, on his way out of town to a conference, also makes an unflattering reference to her age. Still, she has a chance to redeem herself. Friends are hosting a party that a prominent modeling talent representative will attend. She'll get a sitter and go alone, looking her best. But when she meets the man, he won't even take her card. Her features, he says, are too regular, her breasts too large, and over-contrived looks are out of fashion. Faye is devastated until Jonah appears.
In his first-person section, he makes clear his motive is not friendship, but seduction. He plies her with alcohol and flattery, soothing her insecurities. In a why-doesn't-she-see-this-coming moment, he persuades her to go home with him and they have an unihibited night of sex. When she wakes in the morning, Faye is horrified and slips away without waking him.
She leaves unobserved… except by Erica, that is. Faye's lapse destroys Erica's illusion that Faye and Phillip have a perfect marriage, and she becomes convinced Faye is a bad mother, leaving the children too long and too often at the shopping centre's creche. Erica grew up in a series of unhappy foster homes, and she thinks she can spot neglect when she sees it. Despite her delusions, she remains a sympathetic character, with a nice character arc.
Faye is aghast at what she's done and determined to keep Phillip from finding out. Ah, once again, secrets are the fuel propelling the plot forward. Jonah is not backing off. He starts stalking Faye too, ignoring her pleas to be left alone. And he has pictures. Being in charge of the family's loft project, Jonah has every plausible excuse to show up at their home at all hours. Philip dismisses Faye's hints that Jonah is hassling her and, because of the pictures, she can only go so far.
Erica is progressively losing touch with reality. She hatches a plot to get Faye's girls away from her and raise them herself. She goes so far as to get a job as a cafeteria worker at the older daughter Tamsin's school and tries to ingratiate herself with the girl. She talks to Faye on the playground at pickup time, constructing fantasies about playdates with her nonexistent daughter and proposing outings for them. Faye thinks she's odd, but on a day when she's miles away at a photo shoot, Erica damages the tyres of Faye's car, stranding her, and returns to the school, managing to talk the staff into letting her take charge of Tamsin.
Lots goes wrong from here on out, as the pressure on Faye increases to an excruciating point. While Erica is a convincing adversary, as a young woman without advantages who lets herself be inhabited by a foolish fantasy, Jonah is not. You may not fully believe in him and his smarmy descriptions of the sex he and Faye had. It would be a stronger book if his character created the kind of divided loyalty Erica does. Yes, she makes mistakes, but you still kind of root for her.
If you like psychological thrillers, you may also like Jane Corry's The Dead Ex or Spare Room by Dreda Say Mitchell.
Avon
Print/Kindle/iBook
£3.99
CFL Rating: 3 Stars