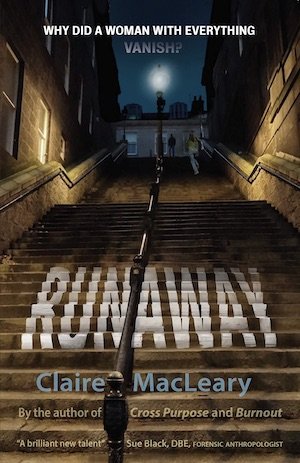 Written by Claire MacLeary — Maggie and Wilma are the Thelma and Louise of Aberdeen. On the surface, they're two very different women, but fate threw them together by way of a series of circumstances which featured in the previous books of this series. The upshot being that they set up a detective agency together.
Fast forward to the present and the agency isn't doing so well. In fact, things are so bad that Maggie is on the verge of calling it a day. Wilma has faith though, and she begs for one last chance to show that things can work out. Then in walks a new client and it looks like Wilma is about to have her wish granted.
The would-be customer is Scott Milne, whose wife has disappeared. On the face of it, Debbie was the perfect wife and mother, and the family had recently moved into the home of her dreams. She had everything, so why would she leave it all behind? Police enquiries are drawing a blank and a distraught Scott sees Maggie and Wilma as his last hope. But they have no experience of missing persons cases and Maggie is reluctant to get involved. Wilma is adamant – this is a loving wife and mother who has left behind two young children. It's a no brainer as far as she's concerned.
As the pair begin to investigate, fitting it in between their day jobs, they hit the same cul-de-sacs as the police before them. No one saw Debbie leave. She had few friends except for the mysterious Sam, who recently turned up out of the blue after years of silence. She left her mobile phone behind and hasn't been taking out any cash from the couple's joint account. With no clues as to the wherabouts of Debbie, or of Sam for that matter, it's beginning to look like foul play… Then a woman's body is discovered.
We were first introduced to Maggie and Wilma in 2017 in Claire MacLeary's debut Cross Purpose, which was longlisted for the Hearst Big Book Awards Crime Novel of the Year 2018 and the McIlvanney Prize 2017. They've come a long way since then, their relationship growing into something akin to that of an old married couple. Maggie is widowed and still looking for answers after the death of her husband, a former police officer whose career ended under a bit of a cloud. Wilma, well she's someone you don't mess with. She's loud, blousy and prone to letting her mouth run away with itself. Strange bedfellows, then but the disparity works well in the hands of an author who is adept at sketching in characters with a mere few words.
With her quirky mix of grit and humour, Claire MacLeary is carving a niche for herself in the increasingly crowded world of Scottish noir. It's refreshing to have a pair of offbeat women taking the lead and overall I enjoyed meeting this pair. The sense of place in this book makes it enjoyable, however it is a struggle at times to decipher what some of the characters are saying as it plays a bit too heavily on replicating Scots dialects.
This is number three in the series featuring Maggie and Wilma and if you haven't read the previous books you'll be at a bit of a disadvantage – probably best to start with Cross Purpose and continue with Burnout before tackling Runaway. But if you're after something original and entertaining, then it's well worth the trouble!
For more of the offbeat and unusual, with women characters taking the lead, see A Friend is a Gift you Give Yourself by William Boyle.
Contraband
Print/Kindle
£3.79
CFL Rating: 3 Stars