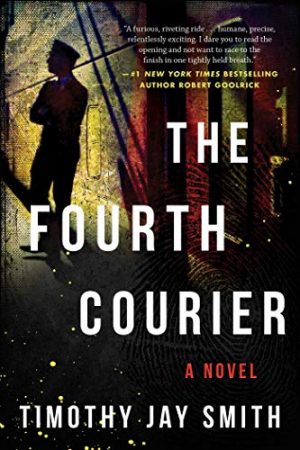 Written by Timothy Jay Smith — Take a walk back in time to Warsaw in 1992 with Timothy Jay Smith's new crime thriller, The Fourth Courier. The Cold War has recently ended, but average citizens are struggling to make sense of the new economic realities. Nothing quite works yet, and the grey concrete dullness of Soviet brutalist architecture is made even harsher by the dismal April weather. Politically, old relationships are unraveling, and chaos in the Eastern Bloc raises an important question: who's watching the nukes?
The Warsaw police are dealing with a baffling series of murders. Over a short span of weeks, three unidentified young men have been shot dead, their bodies abandoned on the banks of the Vistula River, one cheek slit open, all labels expertly cut from their clothing. Now there's a fourth victim, older this time.
The police have no idea who these men are, yet they can deduce some information. The fourth man is most probably Russian. "Look at his teeth," a police official says. "Only Russians use so much gold."
They assume the dead men were couriers, taking advantage of Poland's porous borders to traffic in something. It's hard to say what, until the forensic pathologist notices the third victim has traces of radiation on his hands. Whatever he had been smuggling, from wherever and to whomever, it was a risky, high-stakes enterprise and one that Poland's new Solidarity government wants help in ending.
American aid comes to them from the FBI in the person of Jay Porter, who in turn calls on the expertise of the US Embassy's Acting Regional Security Officer (a CIA officer, Porter immediately and correctly concludes), a gay black man named Kurt Crawford and the ambassador, who lets Porter and Crawford tackle the case in their own way. He even helps them when he can do so without dirtying his hands. There are good interactions and good humour among the three Americans. They all want the same result – to stop what looks like nuclear smuggling – but each has a totally different way of going about it.
Porter will handle the murders and interact with the police. Meanwhile, Crawford is concerned about the war in Yugoslavia where the political situation is deteriorating. Leaders there might have their eyes on more powerful weapons than the smuggled Polish armaments they've been getting. The ambassador just wants to stay above the fray.
Picking up his lost suitcase at the airport, Porter meets an attractive Polish woman, Lilka, whom he strikes up a conversation with. She's divorced from her husband, but the apartments in Poland are so few and so small that they still live together. He starts seeing Lilka, which gives author Smith a vehicle for introducing aspects of everyday Polish life – not just living arrangements, but the shortages, the cranky cars, the small indulgences and the meanness of their surroundings immediately post-communism.
The four courier, it turns out, has sufficient radiation on his shoes and elsewhere to peg him as someone who worked in a Russian nuclear facility, and Porter's assistant back in Washington identifies a nuclear storage site where small, but consistent amounts of radioactive materials have gone missing.
On another track, Smith introduces Yugoslav General Dravko Mladic, head of the country's State Security Service. He's a narcissist with a vision of a resurgent Yugoslavia, cleansed of non-Serbs. At a conference he met Russia's Dr Sergej Ustinov, a physicist who has developed a portable atomic bomb and wants to escape to the West. The two see a confluence of interests. Ustinov is a sprightly old man, full of wit, even when discussing the most destructive weapons and he develops a meticulous plan to smuggle the components out of Russia and into Poland using a series of couriers. Four, in fact.
Perhaps there are a couple too many coincidences in the cast of characters in this story, but all the characters are distinctive and interesting, even the minor ones. There's some steamy sex. And, the settings, from a drably elegant hotel favoured by Mladic to a seedy bar in the bowels of the train station, to the wasteland near the river put you right in the scene.
Interested in post-Soviet Central Europe. Try Dan Fesperman's excellent novel Lie in the Dark.
Arcade
Print/Kindle
£13.51
CFL Rating: 4 Stars