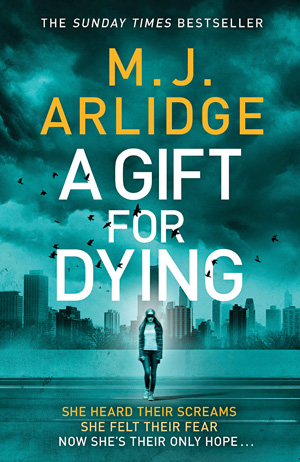 Written by MJ Arlidge — He's best known for the popular DI Helen Grace series set in Southampton, and now MJ Arlidge is branching out in another direction with a standalone which crosses the Atlantic.
We're in Chicago, where a particularly nasty serial killer is lurking. The faceless murderer appears to pick people at random, then tortures his victims in despicable ways before savagely slashing their throats, leaving their remains to be discovered by chance in the boot of the victim's car.
First to die is Jacob Jones, a young, handsome assistant state's attorney who is about to get married. Why is he chosen? Well in truth the reason never becomes clear. What is important is that before his nasty demise he happens to bump into a young woman, literally. Her reaction to their chance meeting is both strange and disturbing and ultimately leads to her being arrested. It's time to meet Kassie Wojcek, who is the heart and soul of this book.
Kassie is 15 and something of a loner. She mostly skips school, has a tricky relationship with her mother and likes to do a little drugs to take the edge off. Oh, and Kassie sees death. Just by looking at person she can tell when and how they're going to die. Which is why she flips when she looks into the eyes of Jacob Jones. Wouldn't you, if you could see the twisted way in which he's about to meet his end?
Kassie tries to warn Jacob, but her actions lead to her arrest – and that's where Adam Brandt comes in. He's a forensic psychologist and although he's used to dealing with damaged people he has never, ever met anyone like Kassie before. While she seems convinced of the veracity of her story, Adam isn't. How could such a thing be true? Like Adam, you will vacillate between believing the troubled teenager and laughing it off. Even Kassie's mother has no time for her dramatics. The question is: who's right?
To complicate things further, the police now have their eyes on Kassie. When another victim meets her gruesome end and it's someone Kassie has been involved with she is in the frame for murder. As we all know, the police don't believe in coincidence. This feisty, fragile girl is up to her neck in trouble, and with her mother refusing to get involved the only person she can turn to is Adam. He agrees to help – big mistake!
If you like your crime firmly rooted in reality then this book probably isn't going to offer much appeal. It has an element of fantasy which, on the surface of it, helps to explain what's going on. Dig deeper, however, and the foundations appear a little shaky.
Arlidge is a dab hand at characterisation and in Kassie he's created a fabulous central character – so realistic you'll want to reach into the pages and give her a big hug. The dialogue sounds suitably American, though I'd have chosen to use US spellings throughout instead of sticking to British English. It's also refreshing to have a book set in Chicago, and it's obvious that the author has done his research about the place and it lives and breathes in A Gift for Dying.
Ultimately though, it's hard to 'get' this book. Like Sarah Pinborough's Behind Her Eyes, it veers off into the supernatural and although that will be perfectly fine for some readers, others may find it disconcerting and off putting. Best idea is to give it a go and then decide which camp you sit in.
Also see our Guide to John Connolly's Charlie Parker. Read our interview with MJ Arlidge here.
Penguin
Print/Kindle/iBook
£7.99
CFL Rating: 3 Stars