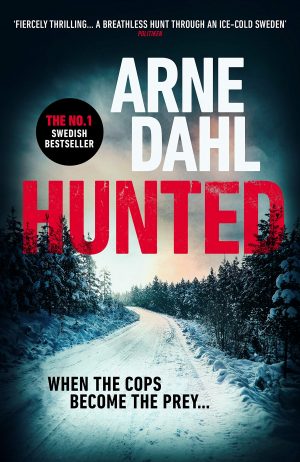 Written by Arne Dahl, translated by Neil Smith — Arne Dahl, internationally known for his Stockholm-based Intercrime book and TV series, has recently brought a new series to the Nordic noir market. Book two of the Sam Berger series hits the ground running, with cops Sam Berger and Molly Blom on the lam from the authorities as a result of the disastrous investigation of the previous book Watching You, where both became implicated in a colleague's murder.
Both under investigation, the pair are summoned to Lapland in the far north to secretly investigate a possible serial killer case. Under the direction of his former partner, Deer, who is head of police up here, Sam is thrust into a new partnership with Molly, whose dark ops background and hidden satellite phone makes him pretty sure she's concealing something. Sam trusts Deer, but the problem is he's not sure about his own role, mainly due to a mental breakdown, blackout and subsequent amnesia suffered while hiding out in a shack with Molly.
The book opens in rural Sweden with a letter, apparently written by a Jessica Johnsson, a paranoid woman in a wilderness cabin. The letter is addressed to Sam's former partner, Desiré Rosenkvist, AKA Deer, now promoted to Superintendent head of Stockholm Police. It contains uncanny knowledge about Deer as well as information about a serial murderer who targets women with children. The author also notes that someone, possibly the murderer, is hiding in the woodwork and is approaching…
In Hunted, nothing is what it seems as identities blur and become transposed. We shift to a point on the timeline where Sam is injured and committed to a psychiatric institution. He is obsessed with escaping at all costs while feverishly trying to recall recent events. How this episode connects to current events becomes key to the murder investigation.
It becomes clear the murderer – and you're kept guessing as to who it is with plenty of red herrings – is sending a message to Sam as he and Molly get closer to tracking them down. As in Watching You, the killer is targeting Sam with a very personal challenge, and it's tied to Sam's early years as a cop.
The victims pile up and include a biker chick, a Danish doctor and one person even manage to survive an attack. When Sam and Molly locate the letter-writer's cabin they become victims themselves in what can only be described as a series of harrowing, certified-WTF fiascos.
Then it's revealed that an unseen mystery man with a gloved hand has been watching them via surveillance equipment installed around their cabin hideout. Are the voyeur and killer the same person operating from deep within the national security apparatus? If so, how high up does it go and what are the true stakes? Who are Sam and Molly really chasing?
If the plots sounds convoluted, it surely is, as Dahl demonstrates that appearances are deceptive. Despite being delightfully complex and never swerving from its course as a first-rate thriller, this book doesn't serve too well as a standalone, and new readers will feel the deficit of not having read the first book. If you already have enjoyed Watching You, this follow-up is definitely recommended. For fans of Scandinavian crime fiction, grim atmosphere and investigative procedurals, it will be more rewarding to start at the beginning.
Harvill Secker
Print/Kindle/iBook
£7.99
CFL Rating: 3 Stars