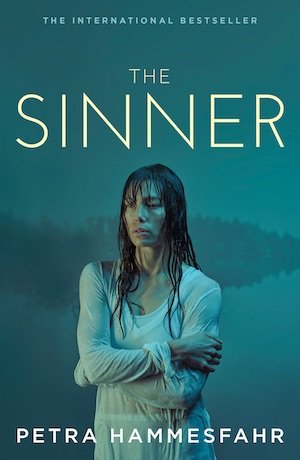 Written by Petra Hammesfahr, translated by John Brownjohn — The first season of the twisty crime show The Sinner, starring Jessica Biel and Bill Pullman, makes for addictive binge-watching. It also made our list of the best crime shows of 2018. Although produced in the US, the programme has a different feel to it and that's because it's based on this novel, first published in Germany in 1999.
Bitter Lemon Press translated this bestseller back in 2007 and has now reissued it as a paperback following the success of the TV series. Even if you've watched the show, the book is recommended because there are small but significant differences between the two versions, revealing wider cultural differences.
The first thing you need to get used to is that the names are slightly different. Cora Bender, not Tannetti, is the main protagonist, the so-called Sinner, while the detective is called Rudolf Grovian in the book. His name is important because it is just one letter removed from grobian, which means rough and uncouth in German. Clearly, his colleagues think this suits him well, but in fact he is the only one who shows compassion towards the killer Cora and tries to dig deeper into her real story.
Cora Bender is a quiet young woman, a devoted mother, dutiful daughter-in-law and grateful wife. One fine summer day, as she is peeling an apple for her son while sitting on a lake-side beach, she suddenly jumps up and repeatedly stabs a man. It's an open-and-shut case. The man is dead, there are plenty of witnesses and Cora herself admits her guilt. Only one question remains: why did she do it?
Cora offers no explanation, but Grovian refuses to accept the case as closed. He continues to investigate the background of the young woman. The story therefore is not a whodunit but a whydunit and is crammed full of twists and surprises.
Cora seems to have trouble recalling key moments in her past. Although it appears she would rather stand trial with no defence at all, she eventually offers one story after another. Each time, Grovian catches out the inconsistencies, inaccuracies or outright lies. There is a dual timeline, taking us from the present-day investigation narrated from an omniscient, detached third-person point of view, to a first-person point of view in the past, with Cora growing up in a family profoundly troubled by congenital disease and an overwhelming sense of Catholic guilt. The German setting feels natural, and you can see how it can be easy to lose track of people in the cities mentioned in the book. However, in some ways the American suburban setting of the TV series works even better.
The book clearly cannot quite match the series for the element of surprise. On TV, each episode leads us in a certain (mis)direction only to pull the rug from under us with a cliffhanger, which suddenly points us in another direction. What the book does offer is more of an insight into the troubled mind and unusual background of this woman. In spite of these insights, Cora remains unpredictable and enigmatic, somehow aloof from both the investigators and the reader. Petra Hammesfahr is to be congratulated in creating a complex, damaged character, whose whole life seems to have revolved around pleasing others.
The emphasis is so much on Cora, that the other characters recede into the background. They all have a part to play – and most of them are quite unlikable and less than helpful in regards to Cora – but as readers we are just not as invested in them. This is actually a good thing, since the narrative strands are complicated enough as it is. The weakest part of the book is the attempt to give Grovian a bit more of a family context, which merely slows the story without adding anything to it.
Another recent whydunit where a woman's guilt is in no doubt is Karin Fossum's The Whisperer, which is also worth reading.
Bitter Lemon Press
Print/Kindle/iBook
£1.89
CFL Rating: 4 Stars