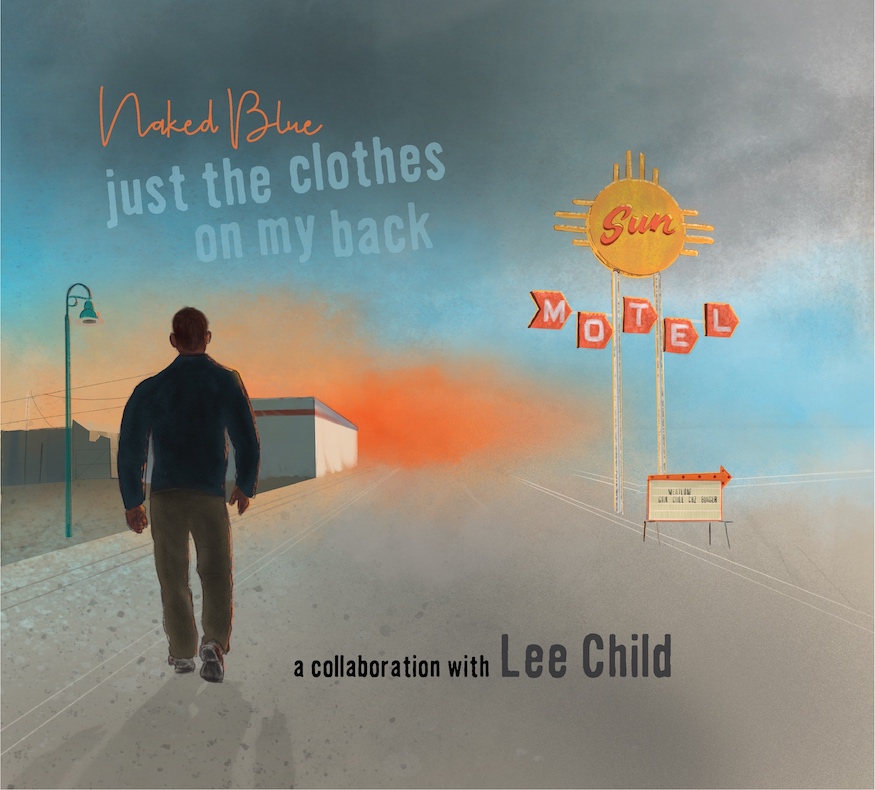 What do you get for the crime fiction lover who has everything? How about Just the Clothes on My Back by the American roots rock band Naked Blue? It's an album full of tracks about Lee Child's wide-roaming ex-forces crime buster Jack Reacher, and has just been released on Amazon, iTunes and Spotify.
"We went up to Lee's place in NY in Sept 2017 and then again in August 2018 to write the Jack Reacher songs," says band co-founder Scott Smith. "Having been super fans, and having read all the books, it was really delightful and dream-like to sit down with Lee and dig into Jack Reacher's character and transform him into songs."
With Scott playing guitars, bass and keyboards on the albums, the vocal talent in the band is Jennifer Smith. "The song Sanctuary was inspired by one of Jen's favorite images from the books," says Jen. "Reacher notices a teardrop shaped zipper at the back of a beautiful woman's dress, and later ends up grasping the teardrop and pulling it down. We used a lot of imagery from the book in the song, and it also gave us an opportunity to look at what intimacy means to Reacher."
In Midnight Train, the songwriting duo answer some of Lee Child's critics. A scene in The Affair was given The Literary Review's Bad Sex in Fiction Award but the song sets out to redeem the writer's work. Killing Floor is based on the first book in the series, which has the same title, and the band felt it fitting to end the album with this one.
"It's been really interesting, having Jen as a female, singing Reacher in first person," adds Scott. "At first we thought, 'Oh no, listeners will be caught off guard and think it's just odd.' And with the broad criticism of a 5′ 7″ actor playing the character in the movies, we were tentative at first. But listeners seem to be embracing it without question."
For more crime fiction in the world of music, check out our top 20 songs for crime fiction lovers.