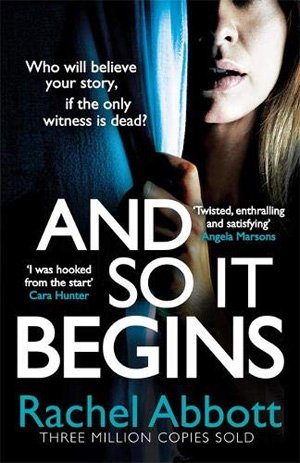 Written by Rachel Abbott — She's best known for her hugely popular self-published series featuring DCI Tom Douglas, now Rachel Abbott has her first traditional publishing deal and has released a standalone story to launch her Wildfire career.
Abbott fans have already been converted by this writer's talent for writing a twisty-turny tale and they won't be disappointed with And So It Begins either. For newcomers, it will provide a fine introduction to a writer who never disappoints and it may even attract new readers to the Douglas series. There are switchbacks and hairpin turns around every corner – best not to let your guard slip until the final page, because Abbott has plenty of surprises in store.
We're thrown in at the deep end with a messy, confusing crime scene at a stunning property on the Cornish coast. Two people lie in a bed, covered in blood. Both are apparently dead but one of the police officers in attendance spots a tiny movement and realises one of them is still alive.
Thus begins a tale that'll leave you bamboozled and battered. The dead man is renowned photographer Marcus North, the woman beside him his live-in girlfriend Evie, mother to their little daughter Lulu. Surprisingly, she readily admits to having killed the reclusive snapper. But was it cold blooded murder, or self-defence? We soon discover that Evie was prone to having 'accidents' at home and as the case against her begins to build she reveals that things were not as they seemed between her and Marcus. As the image of the gentle, hugely talented photographer begins to shatter, Marcus's sister Cleo is quick to jump to his defence. Who is telling the truth?
Sergeant Stephanie King was first on the scene at the clifftop home and also recalls an incident she attended a couple of years previously. Marcus North was away when his wife, Mia, was found dead at the foot of the stairs, apparently having tripped over an untied shoelace on her way to the home gym in the basement. At the time it seemed an open and shut case of accidental death but now King is not so sure…
The deeper you get into this taut psychological thriller, the harder it is to decide whose side to take. Is Evie as much of a victim as she paints herself? Did the domineering Cleo see only her brother's good side? And what really happened to Mia? As the case gets to trial, the story of what occurred on the night of Marcus's death becomes clearer, but Abbott leaves you with the nagging feeling that we aren't being told the whole story. Meanwhile, Cleo has custody of little Lulu and is beginning to treat the child as her own.
And So It Begins is a tense and tautly plotted book, which bears all the hallmarks of an Abbott bestseller with its spot-on dialogue, sure-footed sense of setting and multiple layers. I found it hard to like Evie or Cleo, although I found myself rooting for Steph King and fancied a night out on the town with Aminah, friend to both Evie and Cleo and a cracking bit of characterisation.
I really enjoyed this standalone and hope Rachel Abbott has some more up her sleeve. It's good to see an author step away from a successful series for a while and try something a little different and I'm sure And So It Begins will be a big hit with both committed Abbott fans and readers new to this author. Grab a copy – it's a great companion for the dark nights ahead!
Discover Rachel Abbott's Tom Douglas series with The Back Road, which we reviewed in 2013. For more crime fiction set in Cornwall try The Old Religion by Martyn Waites.
Wildfire
Print/Kindle/iBook
£4.99
CFL Rating: 4 Stars