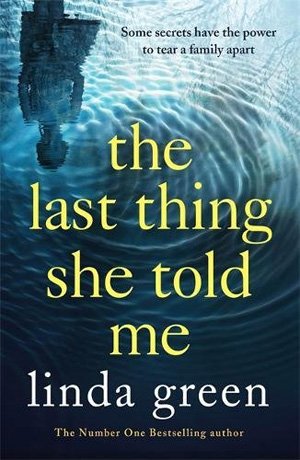 Written by Linda Green — Over the years, deathbed confessions have been used to great effect in fiction. Prepare for another variation on the theme.
Nicola's grandma is fading, and as she keeps vigil over her elderly relative, she ponders upon the strained relationship that exists between her grandmother and mother. As the old woman rallies one last time, the elderly Yorkshirewoman says something that gives Nicola pause for thought: "There are babies at bottom of garden…" Then she's gone.
At first Nicola dismisses it. Her gran must have been referring to the two fairy statues that stand at the end of the lawn, mustn't she? But when she tells her mum about it, her reaction makes Nicola think there's more to that dying sentence than she thought. Armed with a spade, she and her daughters Ruby and Maisie go to investigate – until young Maisie discovers a 'fairy bone' and all excavations stop. Best leave things to the police, after all.
The unearthing of two tiny human skeletons really sets the cat among the pigeons. Nicola's mum told her not to get involved, to let things lie and not to contact the police, but Nicola refused and now she has to live with the consequences. The press descend en masse on the quiet West Yorkshire village where gran had lived for so many years and people begin to talk in hushed tones about cults and sacrifices. Then Nicola begins to receive threatening notes and her car is keyed. Someone out there doesn't want her to stir up old memories, but this is crime fiction and that's never gonna happen, is it?
Nicola is a teaching assistant at a local primary, while her husband James is a plumber. They live in a small house in Hebden Bridge and are pretty ordinary, sensible folk. So what on earth possesses her to stir things up even further? Her mum seems a bit of an oddity but she's talking good Yorkshire sense when she advises her daughter to step back. Instead, Nicola keeps on probing, and what she discovers shocks her to the core. Meanwhile her mother refuses to speak to her and she soldiers on alone, uncovering some long lost relatives in the process. Could they hold any clues to what went on in the dim and distant past? Be careful what you wish for…
Nicola's ill advised family history crusade is interspersed with wartime love letters to someone called Betty from a man called William, and the memories of an anonymous woman are also liberally scattered amid the modern-day narrative. Some of those recollections make disturbing reading, in sharp contrast to the romantic outpourings of a young man fighting for his country. A veritable avalanche of mistakes made in the past are about to have wide-ranging repercussions in the here and now.
The Last Thing She Told Me is a surprisingly poignant, tautly scripted tale that twists and turns like an out of kilter corkscrew. Former regional journalist Linda Green is a dab hand at creating believable settings and as a West Yorkshire resident, she knows her patch well. The situations in the book feel real and the author takes great delight in keeping you guessing until the very end. The tragic plight of the tiny babies has more than a touch of the Magdalene Laundries about it and brought to mind Jo Spain's With Our Blessing, which we reviewed in 2015.
Nicola's heart is in the right place, but her one-track-mind approach to the matter at hand can become a little wearing after a while, to the point that you wish she'd just shut up and rue the error of her ways. Sometimes, you have to take other people's advice and back off. Instead, my favourite character is Ruby, a teen with attitude whose life is about to dramatically alter as past indiscretions by so-called sensible adults come to the surface.
This is a book destined to lead you in surprising directions, although not all of them may be worth the mileage they are given. Nevertheless, an entertaining read from an author who has already amassed a hefty back catalogue of psychological thrillers.
The discovery of a tiny skeleton is at the heart of Rebecca Alexander's debut novel, A Baby's Bones. For more West Yorkshire-based crime, try RC Bridgestock's White Lilies.
Quercus
Kindle/iBook
£0.99
CFL Rating: 3 Stars