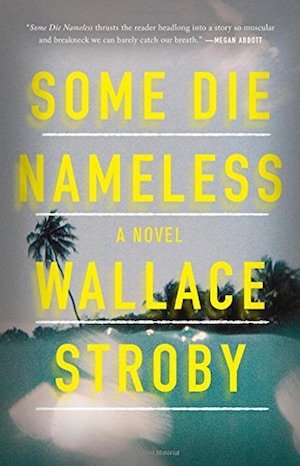 Written by Wallace Stroby — Ray Devlin is a middle-aged ex-mercenary whose deepest wish is to be left alone. He lives in a houseboat in Florida, and has as little as possible to do with his old world. Devlin knows a visit out of the blue from an old colleague spells bad news, but anyway he hears out Bell's job offer out of politeness before declining. His physical injuries and PTSD make him unfit for that kind of work, and in any case he has long since stopped enjoying the rush that comes from battle.
It turns out Bell's offer was purely a ruse to put Devlin at ease, since he tries to kill him shortly afterwards. It's the first of a number of fast, close-quarters fights that happen in the book. Some Die Nameless is populated by tough men inured to violence, and Stroby gives their confrontations a visceral heft. People aren't just shot – although that happens a lot – they have their bones broken and their faces pummelled.
Devlin knows pretending nothing happened isn't an option, and so reluctantly heads north to Philadelphia to visit another ex-mercenary known to the pair of them. Roarke, who now runs a Philly bar, hasn't had any contact with Bell recently, but offers to put Devlin up and help him work out what to do next.
Meanwhile, journalist Tracy Quinn is investigating a murder in downtown Philadelphia. Her ex, Dwight, a married homicide inspector who wants them to get back together, has given her a tip about a corpse found in a factory a month ago. The body has been identified by the criminal database as belonging to Emilio Mata, from the South American republic of San Marcos, but his drivers license has another name on it. It's enough for Quinn to want to dig deeper. Persuading her boss that the story has legs might be harder. Quinn and her colleagues are being ridden hard in the difficult economic climate for newspapers, and stories that aren't judged to have the right degree of public interest aren't followed up. The newsroom scenes feel authentic, and author Wallace Stroby is a journalist. You'll feel Quinn's frustration as at first she fights for her story, and later resorts to avoiding her boss in order to carry on working on it.
The link between Devlin and Quinn is Mata. Devlin's last job as a mercenary was in San Marcos 15 years prior, ushering in democracy via the bullet. Fomenting violent revolution against a left-wing South American government was a risk for the private military contractor then, even if there was tacit approval from Washington. Discovery of their involvement now would be disastrous. The man they helped put in charge has proved to be a brutal dictator, and the company's ambitions of diversifying into legitimate, and lucrative, government procurement contracts would be toast.
Roarke's murder – at first glance a botched robbery – the day after Devlin's arrival, brings them together when Quinn is given the story. Neither really trusts the other, but their own separate investigations eventually lead them to the same target.
Stroby has written a delightfully old-fashioned thriller. Devlin has a frailty that many of today's action thriller protagonists lack. Reacher and similar characters might shoot somebody from half a mile away or launch into a flying kick, never once seemingly getting out of breath. Devlin knows even if he wins he'll be puking his guts up for the next half hour. It feels like a long time since I spent company with so many taciturn men who nurse their grudges like their whiskey, and want nothing more than to crawl into a black hole and hide from their flashbacks.
The author, though, is interested in more than just writing an excellent hardboiled throwback. In some excellent scenes with his ex-wife's new partner, and particularly with his son who is growing up on the other side of the country, the tragic result of Devlin's inability to face up to his family responsibilities, and to communicate honestly on an emotional level with those he loves, is revealed. The result is a thriller with heart and soul, as well as brawn.
Wallace Stroby is perhaps best known for his Chrissa Stone novels. Have a look at our review of Shoot the Woman First.
Mulholland Books
Print/Kindle/iBook
£9.99
CFL Rating: 4 Stars