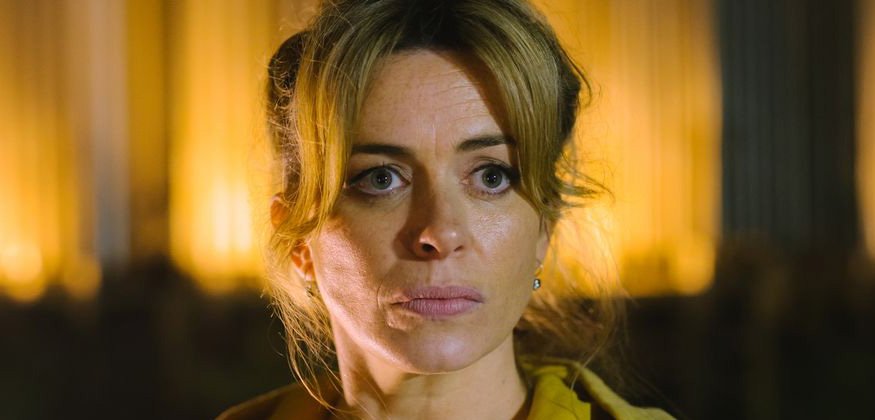 The BBC has a secret. It's known to crime fiction lovers in Wales, but in the rest of the UK and around the world not many people have heard of Keeping Faith, the crime drama set on the beautiful Carmarthenshire coast. If you're a fan of Broadchurch, Shetland or Hinterland, or if you just want to get into some Celtic fringe crime fiction, it's worth seeking out. We first posted this article in March, when the bilingual programme was only available on the iPlayer outside of Wales. Now it has disappeared from the iPlayer as the BBC prepares to air the English version of the series on BBC One across the UK starting Thursday 12 July at 9pm.
Missing husband
It all begins when Faith Howells (Eve Myles) discovers that her husband Evan (Bradley Freegard) is missing. He goes to work one morning, and soon enough his office is on the phone calling her in to cover for him at the courtroom. Both Faith and Evan are solicitors, but she's on maternity leave and is looking after their three children while he takes care of the business. Maybe Evan is late back from a meeting, or taking a time-out down where their boat is moored? When he doesn't come back that night, it becomes a missing persons case. Then she finds a fake ID in his wardrobe, and a wig…
All sorts of strange things start to happen. Faith finds out that their firm is £60,000 in debt and that her husband has taken out a £1.25 million life insurance policy. Both these facts make her a suspect in the eyes of DI Sue Williams (Eiry Thomas), who seems to have an axe to grind with Faith even though there's no evidence that Evan is dead. Steve Baldini, a client of the firm, suddenly seems strangely protective towards Faith. There's a break-in at the company's offices, a menacing man appears at the Howells household late at night, and family secrets start cropping up that might have affected Evan's mental state.
This tense mystery is driven by the performance of Eve Myles, who movingly portrays the worry, despair, loneliness and ultimately the strength of a character who is missing her husband but desperately wants to find him, and to protect her family. Like Hinterland, the programme was made in Welsh and English, and Myles, who has appeared in Broadchurch and Torchwood, learned Welsh in order to play the part. Instead of the dark tone and tragic atmosphere Hinterland brought with it, Keeping Faith has a lighter touch and begins feeling a bit like a summer by the sea and has a rather odd soundtrack for a crime show. Be prepared for a slow burner – as the episodes progress the tension and anguish are cranked up.
Crime fiction cred
There's a lot of pedigree behind this programme that has helped its high quality storyline and production values. The dramatic countryside and harbour settings have been stunningly captured by the BBC Wales team. The story was created by Matthew Hall, who has previously written Kavanagh QC and Dalziel & Pascoe. He writes crime novels as MR Hall, including The Chosen Dead. And, if you watch closely you'll see several of Hinterland's top actors. Hannah Daniel, who played DS Owen in Hinterland is a solicitor in the Howells' firm. Mali Harries, the excellent DI Rhys in Hinterland here plays Evan's sister Bethan, while Aneirin Hughes, Hinterland's ominous Chief Superintendent Proctor, plays Evan's father. You won't recognise Alex Harries as the homeless man Arthur Davies, so different from his straight laced portrayal of DC Lloyd Ellis.
Entitled Un Bore Mercher in Welsh, the programme originally aired in November on S4C. The English version of Keeping Faith has already aired on BBC One in Wales an now will be showing across the UK. Once it starts airing on 19 July you'll be able to watch it on the BBC iPlayer.
Read our coverage of Hinterland here, and for more Welsh crime fiction click here.