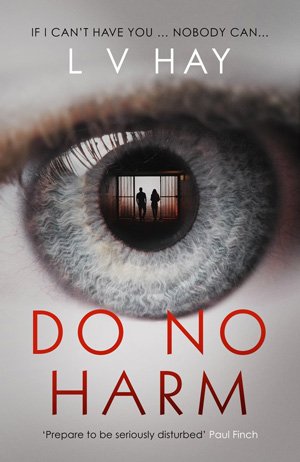 Written by LV Hay — Some authors delight in leading their readers up the garden path and, in truth, many of us love being taken there. Therefore, ladies and gentlemen, I give you LV Hay, who's a mighty sneaky individual! It doesn't take her long to show her true colours either. The first sleight of hand comes with the title of this book. Do No Harm? You're having a laugh!
This author's debut, The Other Twin, won widespread praise for the way it wrong-footed its readers and was one of Orenda Books' best selling publications in 2017.  Do No Harm follows that same road and will likely sell well too. It begins with the musings of a faceless, nameless individual who's clearly unhappy about a wedding that's about to take place in a hotel at the edge of a London industrial estate. As they sit outside in the car park and sneer at the guests and the venue, it becomes clear that this person is ready to turn someone's happiest day into a nightmare.
As the pages turn we meet schoolteacher Lily, who is about to marry headmaster Sebastian at the hotel in question. She has a young son, Denny, from a previous marriage to oncologist Maxwell, a man whose controlling ways and dalliances with other women brought an end to the relationship. Sebastian is steady and dependable and the pair are looking forward to their new life together. If only they knew what was in store…
Into the mix come Triss, Lily's best friend since childhood who is also a teacher at the school where the happy couple work, and Fran, Sebastian's imperious mother – yes, previously unwed Sebastian is a bit of a mummy's boy at heart. Don't expect either of these two women to languish at the sidelines as this sorry tale unfolds. Because, from early on, things begin to go seriously wrong for the happy couple. They return home from a dream honeymoon to find it has been trashed, then the electricity is cut off without warning. At any moment you might be expecting a pile of unordered pizzas to be delivered to their doorstep. But no, things get much, much worse than that… this author has a great line in unexpected mishaps.
What could so easily become a simple stalker story moves into unchartered territory as the person with a grudge against Lily and Sebastian steps their campaign up another notch. Sebastian is already under pressure as his school prepares for a dreaded OFSTED inspection, and then unforeseen problems with Denny and Fran make life even more problematic. Suddenly, the loved-up couple's rose tinted honeymoon period doesn't seem destined to last very long after all.
This is a book that delights in keeping you guessing as facts and assumptions pile up like a game of Jenga, only for them to collapse into an unruly heap as something you believed to be true is revealed to be a big fat lie. This happens more than once, so best not to assume anything really.
When she's not writing novels, Lucy Hay is a script editor and producer and she brings those skills into this book too, creating settings and characters that wouldn't look out of place on a television or movie screen. Most of the scenarios featured in Do No Harm are all too familiar – wedding, aftermath, stress… but in Hay's hands they are given an injection of venom that sets the whole world off kilter. Most of these work really well, but occasionally they stagger over the line into the realms of implausibility.
I desperately wanted to love Lily, Sebastian, Maxwell, Triss and Fran but there were times when I longed to bang a few heads together and tell them to use some common sense. That aside, Do No Harm is a book that wrong foots you from beginning to end and has more than its fair share of juicy revelations.
Mixed up marriages play their part in Jane Corry's My Husband's Wife, and a dysfunctional family is at the heart of The Darkest Secret by Alex Marwood.
Orenda Books
Print/Kindle/iBook
£4.31
CFL Rating: 4 Stars