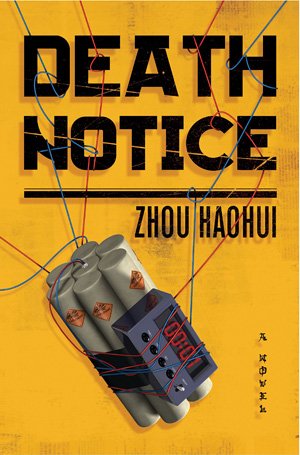 Written by Zhou Haohui, translated by Zac Haluza — A modern action and psychological thriller by a Chinese writer based in China with political themes? Is that even possible? The answer is yes, if this book by Zhou Haohui is any indication. Zhou is one of the most popular suspense authors in contemporary China and regularly writes for TV series. As a consequence, Death Notice has a cinematic feel and a frenetic pace. What you might not expect, however, is a debate around vigilante retribution and punishing of lesser, 'ethical' crimes. Without becoming overtly political, the novel quietly tackles issues which have vexed China in the past that might be easier to discuss now, in a more relaxed cultural climate in the country.
Set in 2002, the murder of a policeman in the Sichuan capital Chengdu marks the start of an unusual investigation. The policeman was trying to track down an individual who has been posting disturbing manifestos on the internet under the pseudonym of Eumenides, who were the deities of vengeance in Greek mythology. Eumenides vows to find and rid the world of filth – criminals who fall outside the jurisdiction of the law, or who manage to trick or bribe their way out of fair justice. Soon, death notices are being sent to high-ranking individuals who deserve to die, according to Eumenides. The police put a taskforce together to work on the link to an 18-year-old case and to try to prevent any future killings. But why would the killer have paused for so long before embarking upon a new killing spree?
Past and present converge in a very natural and organic fashion, unlike many forced dual timeline narratives, which are often wedged-in attempts to build suspense. In the present, we are following with bated breath the police activities aimed at keeping a future victim safe and entrapping the would-be murderer, but somehow he or she always seems to outwit them. In the past, we are aware of inconsistencies, which have much wider repercussions than was originally thought.
Within the elite taskforce itself, tempers start to fray and suspicions arise. For instance, Pei Tao was on track for a stellar career within the police force when tragedy struck him personally 18 years ago, just before graduation. His closest friend and his lover both died, he became a mere provincial policeman and his colleagues are somewhat unsure of his motives in reopening the investigation. Meanwhile Captain Han Hao, who is heading the taskforce, is ready to explode any second, convinced that Eumenides is taunting and humiliating the police. The third main investigator in the case is female criminal psychologist Mu Jianyun, who has joined them not just to profile the killer, but also to assess the various members of the team. The atmosphere of suspicion, which is fully exploited by the murderer, is one of the most interesting aspects of the story.
Not all of the characters are as fully developed as one might wish. This is not uncommon in action thrillers, but perhaps more obvious in a Chinese one, where we struggle to distinguish between many characters with similar-sounding names. Some of the characters do seem to be borrowed from a library of stock characters to include in thrillers – beautiful and sensitive criminal psychologist, corrupt and impatient underworld boss, loyal underling carrying out orders unquestioningly, and so on. Perhaps there is too much effort to Americanise the work in translation, leading to rather stereotypical phrases. However, this doesn't detract from the fun of the intricate plotting and nail-biting scenes involving the entire cast. It might not be wildly innovative compared to American thrillers, but it is pulsating, rollicking entertainment from a country that doesn't appear all that frequently in our geography of crime fiction.
For a different pace in Chinese crime fiction try Black Holes or The Borrowed, a CFL Recommended read by Chan Ho-Kei.
Doubleday
Print/Kindle
£7.99
CFL Rating: 4 Stars