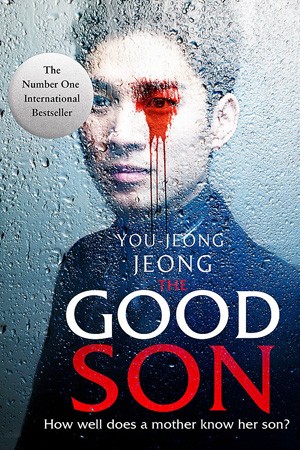 Written by You-Jeong Jeong, translated by Chi-Young Kim — South Korean fiction is something of a sleeping giant, both within and outside the crime genre, but it's a giant that is slowly awakening with a number of compelling reads coming out of the southern half of the Korean Peninsula in recent years. You-Jeong Jeong's The Good Son is the latest addition to our growing bookshelf of Korean crime fiction, and it's one that has been creating a lot of buzz ahead of its publication in English on 3 May.
Yu-Jin is the eponymous good son and he wakes up one morning in an empty apartment, covered in blood. As he struggles to piece together the events of the night before he makes his way around his family's home in Incheon, a bedroom city and transportation hub on the waterfront near Seoul. When he finds his mother's body downstairs, slashed by the razor Yu-Jin inherited from his father, he still can't work out what happened the night before, but knows what it looks like. If he tells the police, they'll suspect him of the murder and it seems there's enough evidence to charge and convict him. But what Yu-Jin doesn't know for sure is whether he commited the murder.
Yu-Jin starts the arduous process of cleaning up after his mother's death, knowing he won't be able to hide her disappearance for long. His adopted brother, Hae-Jin, is on his way back from work, filming a movie on an island off Busan, while his aunt keeps calling to see where Yu-Jin's mother is. For most of the novel she is just referred to as 'Auntie' and she's a child psychologist specialising in personality disorders, who Yu-Jin blames for ruining his own life. Once a promising swimmer on the cusp of qualifying to represent his country, Yu-Jin was forced to stop swimming at 15 due to side effects of medication he took under Auntie's instruction to treat an illness that was never explained to him. Yu-Jin's mother and Auntie allow him to believe that what he suffers from is epilepsy, and any fit during a race could have led to him drowning. So Yu-Jin lives a slacker's life, going for runs on the waterfront, sleeping in and bottling up his anger and resentment.
Much of this detail is buried late in the novel, coming out slowly, seen through Yu-Jin's flawed perspective. The fate of his father and younger brother only come out very late, and even then you can't really be sure what happened. All we have to go on is Yu-Jin's first person retelling, and his mother's journal, in which she recounts her worries and the daily minutiae of his mysterious illness: his disappearances, his changes in mood, his reluctance to take his medication. Both perspectives can seem a bit heavy-handed, but this starts to make sense as you begin to piece together Yu-Jin's mental state.
It is this slow piecing together of the mind of a psychopath where The Good Son excels. We know from a couple of pages in that Yu-Jin has killed at least once, but what we don't know is what caused him to be this way, and what he'll do in his desperate attempt to get away with murder. There are no simple answers when it comes to mental illness, and The Good Son manages to avoid simplification as it reaches towards its conclusion.
There are moments when it seems as if a character is stating the obvious, but these may be due to the nature of Korean to English translation. Even so, the translation really allows the story to pull you in, and the twists and turns keep you going. When news about see-sawing tensions between North and South are almost all we hear from Korea, it's refreshing to see some top-quality psychological crime fiction out in English from one of South Korea's biggest authors. She's written three other novels before this, and I'd love to see a couple of them out in English too.
For more Korean crime fiction check out The Investigation by Jung-Myung Lee, a recommended book on our site.
Little, Brown
Print/Kindle/iBook
£7.99
CFL Rating: 4 Stars