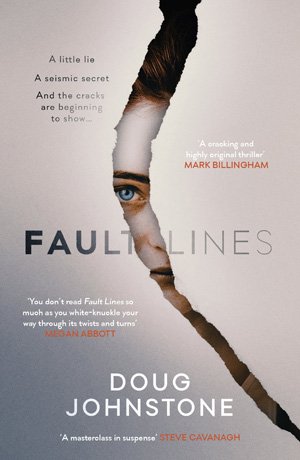 Written by Doug Johnstone — Hit and Run, The Dead Beat and The Jump are three of Doug Johnstone's previous novels that we've reviewed here on Crime Fiction Lover, but the Scottish author has several more to his name. He also has a reputation for crafting original concepts and conflicts, and grinding his characters through with a clear and intense writing style that brings you so close you can feel their breath on your skin. It can be a little creepy.
His latest standalone, Fault Lines, has just that sort of realism and engagement, and kicks off with 25-year-old geologist Surtsey landing on a strange island in the Firth of Forth to meet her lover. This will be their final tryst, not because she's breaking it off but due to the fact that when she finds him his head has been smashed in. Perhaps he tripped and fell from a cliff, or maybe it was murder. She doesn't exactly panic. She slips the second mobile he kept for this affair into her pocket, and leaves him to the gulls, deciding not to report his death to the police.
Bad call.
She wants to keep the liaisons with her supervisor at Edinburgh University a secret. There's no way she'd be able to face the man's wife and children, her colleagues in the department, or her boyfriend Brendan, even if that relationship is just a casual thing. Surtsey now has a secret, and as soon as the body is found, she's going to have to lie, lie, lie – and perhaps ask others to lie for her – in order to keep it. Oh, and just to make her chest a little tighter, Tom's phone starts bleeping. Yup, she's getting texts from someone who knows what she's been up to…
Fault Lines has all the underpinnings of a classic noir novel, and the moral and emotional depth to go with it. It's also very up to date. Surtsey is a young woman of the millennial generation, self-aware, liberated and ready to sniff out any sense of entitlement in others. The phrase, 'You don't get to…' passes her lips numerous times. Even when she's lying to the 50-something detectives, she achieves an astounding level of self-righteous indignation over their line of questioning. She feels she's in the right simply because they don't know the real story. And, although she's done the dirty on Tom's wife, she juts out her chin in the face of the woman when they confront one another.
We're told her story in the third person, looking over her shoulder every second of the way for the week or so that this story takes to unfold. We know everything about how she feels after drinking too much wine, or getting too high, as she tries to bounce along through it all after Tom's body is eventually discovered. Johnstone writes this strong-but-flawed female character astoundingly well, as well as the world around her. She lives in Portobello, the seaside suburb east of Edinburgh's centre, where salt is in the air and puke is dripping down the side of the toilet bowl.
As wrongheaded as it was not to report Tom's death, Surtsey isn't bad. It turns out he was murdered, meaning there's a killer out there. The police think it's her, but she hasn't got a clue who it is. Probably the person texting her. She isn't sure what to do about that, but then again there's more than just Tom's death to think about. The author doubles back on Surtsey by putting her mother in a hospice. Only in her 40s, cancer has withered the woman and Surtsey's sister Iona refuses to visit her.
The moral complexities and psychological tension of Surtsey's situation are a lot stronger in this novel than the whodunnit angle. More deaths are in store and the culprit is circling Surtsey like a vulture. This might have taken the tension to another level, but it's quite easy to guess early on who's behind it.
Then there's the alternative history angle – or should that be alternative geology? Underneath this story, at the tectonic level, is the idea that a fault line has opened beneath eastern Scotland. It's what created the island, dubbed The Inch, where the body is found. It also means that throughout the story tremors and minor quakes occur, a bit like the storms in Macbeth, to chime with the rumblings of the plotline. The pathetic fallacy works well enough, but the finale, with lava and explosions, doesn't really fit the rest of the story. It's a bit like a sudden visit to Mount Doom from The Return of the King, or Anakin's destruction / Vader's creation in Revenge of the Sith.
Another book with great women characters and huge moral conundrums is Eva Dolan's This is How it Ends.
Orenda Books
Print/Kindle/iBook
£0.99
CFL Rating: 4 Stars