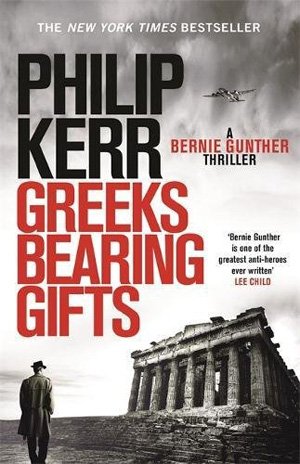 Written by Philip Kerr — Crime fiction lovers were shocked last month to hear of the death of Philip Kerr. Not just because he was still young, but also because he continued publishing great works right up to the end of his life. In between his Bernie Gunther novels, which he has written at a rate of roughly one a year for the past decade, Kerr has also written standalone novels, books for children, and works of nonfiction. The prospect of a new Bernie Gunther novel is something that gets readers around the world excited, and it is a true tragedy that after Greeks Bearing Gifts there will only be one more, Metropolis, due out next year.
Greeks Bearing Gifts is vintage Bernie Gunther, despite the ex-Kriminalpolizei detective's name rarely appearing in the novel. It's 1957, and Gunther is back in his adopted hometown of Munich, living under a new name and working as a mortuary attendant. He calls himself Christof Ganz and deals with the low pay, the poor hours and the freezing conditions in the hospital basement. His years heading up homicide investigations have given him a stomach more than strong enough to cope with with dead bodies. He'd just rather be somewhere else.
Soon, however, he's getting other offers: firstly from the undertaker to be a replacement pallbearer; secondly from a corrupt ex-cop who manages to con Gunther into helping him commit extortion; and finally from a lawyer who wants him to work for Munich RE Insurance as a claims adjuster. He will use his investigative skills to uncover fraudulent insurance claims.
According to Gunther's new boss, Munich RE is one of Germany's largest insurance companies and is expanding through postwar western Europe. While the Nazi years saw them insuring concentration camps and other infrastructure of death, by 1957 they've branched out, also covering vessels anchored off the Greek islands. When one, belonging to Siegfried Witzel, a German living in Greece, catches fire and sinks off of Thessaloniki, Gunther is sent to Athens to investigate. With the help of the local Munich RE representative and Lieutenant Leventis, an Athens cop with a grudge against Germans shared by most of his compatriots, they first find evidence the claimant isn't being entirely truthful, and then that someone is out to kill him. They find that out when they find him at his home, with both of his eyes shot out from close range.
The cops who find Gunther and his Greek associate with the body of the dead German offer them a deal: either help the police find the killer or go down for the crime. Not for the first time in the Bernie Gunther novels, the detective is forced to take a job he'd rather not. It's not that he doesn't have sympathy for the Greek cop, who grew up in Thessaloniki -which was called Salonika and had a large Jewish population – he just doesn't trust him. Lieutenant Leventis has his own score to settle, against a German who killed an old friend of his in a concentration camp by shooting both eyes out at close range. Despite reports that the culprit died, Leventis is sure he is in Athens, and he wants Gunther to help stop him killing again.
Greeks Bearing Gifts is as dark and as smart as anything else in this historical crime series, showcasing Kerr's atmospheric writing, his meticulous research and his gift for witty dialogue. References to Greek mythology are packed in for those who know what to look for, and I even learnt a bit about Greece and Greek history. If you haven't read any of Kerr's Bernie Gunther novels before this is a great place to start. It's the 13th in the series but reads like the work of a young, fresh author, full of ideas. That's what Kerr's writing is like, and like every other Bernie Gunther novel Greeks Bearing Gifts can stand by itself on its own merits, not merely as one part of a series. Whenever I enjoy a book this much I long to pick up the next in the series, or the next book by the author. It is a tragedy that Kerr was lost to us so soon, and a tragedy that there is only one more Bernie Gunther book to come.
We reviewed the previous novel in the series, Prussian Blue here. If you like the sound of the Bernie Gunther novels you might also enjoy books by Dan Smith or David Young.
Quercus
Print/Kindle/iBooks
£12.91
CFL Rating: 5 Stars