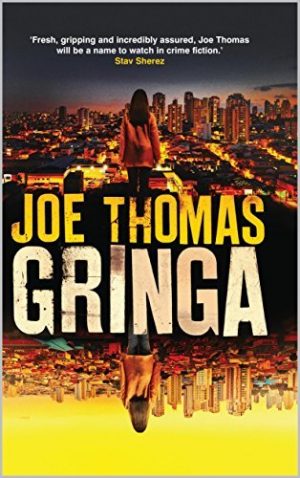 Written by Joe Thomas — Lovers of crime fiction will know that one of the things that really draws us into the world of crime fiction is its emphasis on place and time. We see postwar Los Angeles through the lens of James Ellroy's Los Angeles quartet, in the same way that Chester Himes' Harlem novels are inextricably linked to the Manhattan neighborhood they're named after. In Gringa, Joe Thomas takes for his inspiration the city of São Paulo, the most populous city in both the southern and the western hemispheres. The year is 2013, and the mega-city is gearing up to host the World Cup. The authorities are cleaning up the city, moving favela slumland residents out using any means, legal or otherwise. One of the toughest areas is Cracolândia, or Crackland, the open-air drug market, where the poorest of the poor live among the toughest criminals.
Gringa follows last year's Paradise City, which introduced lowly police detective Mario Leme. Leme is going nowhere in the force, held back by his lack of corruption and the painful memories of his wife's death, gunned down by a bala perdida (stray bullet) in a war between drug gangs. Leme isn't rough or stupid enough to really succeed among the gangs and militia of São Paulo's favelas. Instead he gets by on his brains and his charms. One of those he charms is Ellie, the gringa (foreign woman) of the title, a young British journalist writing arts copy and subediting for the local English language newspapers. Ellie has dreams of being an investigative journalist, and when she stumbles upon a story that could launch her career as a real journalist, she pounces, despite her editor Elizabeth's reluctance. When she goes to meet her source, Leme accompanies her, waiting outside as a favour. But when she doesn't come out, he heads inside to find her, instead finding a murdered corpse and the gringa missing.
It's not obvious at first what all of this vernacular Portuguese means, especially to readers with little familiarity with Brazil and its culture. All the Portuguese I know is from a Brazilian exchange student I met in high school who taught me to swear, using words that feature heavily in Gringa. There's a glossary of terms at the back for any reader who gets stuck, but the untranslated Portuguese rarely stands in the way of the story. The plot swings back and forth between Leme and Ellie's points of view, and hops back and forth through time, but not in a way that confuses or annoys. If you can put up with untranslated Portuguese, without even an explanation of the meaning, Gringa is well worth it.
Gringa has been compared with the works of James Ellroy or Don Winslow due to its astute sense of place and time, but I see it sharing more with the likes of David Peace's Red Riding quartet, differences between São Paulo in 2013 and Yorkshire in the 1970s notwithstanding. Thomas is someone who knows his setting, a familiarity with São Paulo which can only come from living there for an extended period of time. His fiction is all the better for it, painting a vivid picture of Brazil's biggest city as it finds the World Cup forcing it to change rapidly. The gentrification and social stratification isn't unique to Brazil, but Thomas has captured the uniquely Brazilian flavour of social struggle in Brazil. It's probably not going to get people queuing up for the next flight to the country, but a city this fascinating and diverse is certainly worth a visit on the page, even if not in real life.
For a different view of Brazil, check out The Dark Heart of Brazil
Arcadia Books
Print/Kindle
£7.99
CFL Rating: 4 Stars