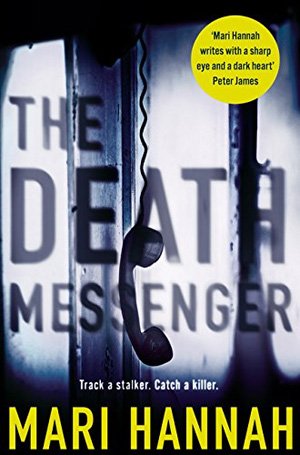 Written by Mari Hannah — The arrival of a mysterious DVD at Northumbria Police HQ sets in train an investigation which is destined to take Detective Sergeant Matthew Ryan and his boss Detective Superintendent Eloise O'Neil around the UK, and beyond.
The subject matter of the film is chilling, with a woman's voice dispassionately describing the scene in a blood-soaked, anonymous lock-up. But is it a set-up? There's no sign of a victim and the near-professional standard of the camerawork makes Ryan and O'Neil wonder if it's all just an elaborate practical joke until an anonymous phone call (made by a woman with a familiar voice) reveals the whereabouts of the crime scene. The place is awash with blood, and an axe found there looks likely to have caused it to flow. But who is the victim and, more importantly, where are they?
Then the newly formed elite team of just two discover there have been other similar DVDs sent to forces scattered around the UK and Operation Shadow is set in play. Ryan and O'Neil have huge resources at their disposal, the grunt work being handled elsewhere by satellite teams, but as more bodies are found and the pair begin to get a handle on the faceless woman they dub Spielberg, due to her high-class film making abilities, they  realise their first big case needs more hands on deck. Cue the arrival of Grace Ellis and her ex-spook husband Newman, who immediately get to work trying to connect the dots that link what appears to be a random set of victims.
Their addition to the team brings a much-needed burst of energy to a story that soon flags despite an initially interesting concept. Alongside a complicated search for a serial killer, Ryan's covert lusting after his boss is a distraction that adds little to the plot. O'Neil also tends towards the cardboard cutout at times, so the arrival of the straight-talking, recently retired, good-at-her-job Grace is like a breath of fresh air, while her husband flits in and out of the plot like a butterfly wearing a cloak of invisibility. There's an authentic whiff of the police procedural here, but moments of high drama are interspersed with periods of plodding pace which tend to apply the reading brakes.
There are none of the deliciously descriptive landscapes of, say, Ann Cleeves' Vera series but Mari Hannah's more down to earth approach keeps the narrative on track as Ryan and O'Neil travel to a number of eclectic destinations including Whitley Bay, Brighton and Copenhagen, in search of the clue that will break the case. The author has a sharply tuned ear for dialogue, but some of the characters, including the aforementioned Newman and Ryan's blind twin sister Grace, are underused and therefore end up seeming inconsequential.
The Death Messenger is the follow up to The Silent Room, which introduced O'Neil and Ryan and received five stars in our review. I haven't read it, and that left me at a distinct disadvantage as things that had gone before were hinted at but not fully explained. Mari Hannah is this year's CWA Dagger in the Library award winner and her place in the crime fiction hierarchy was firmly cemented with the hugely popular Kate Daniels series, also set in Hannah's beloved North East of England. On this showing, I'm not sure that Ryan and O'Neil will reach those dizzying heights but I'm willing to give book three a go!
If you like your crime fiction in a North East setting, try No Name Lane by Howard Linskey or The Seagull by Ann Cleeves.
Pan Books
Print/Kindle/iBook
£5.99
CFL Rating: 3 Stars